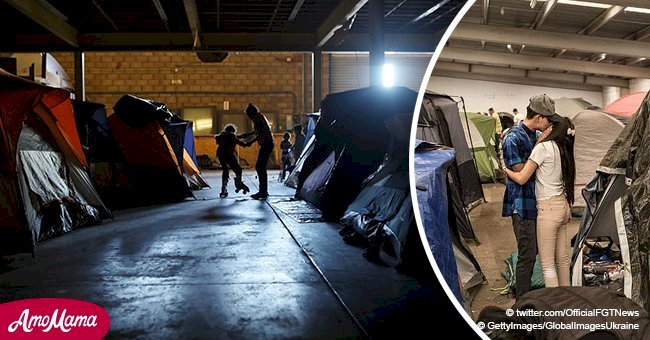 Precious moment as couple in migrant caravan shares Christmas kiss
Thousands of migrants from Central America are in a caravan in Tijuana, Mexico over Christmas. They want to make it over the US border, but their prospects look dim.
Despite the hardships they face, photographs of the migrants have emerged showing that there is a sense of support between them.
One picture, in particular, shows a Honduran migrant couple sharing a kiss on Christmas Eve, which has pulled at the heartstrings of many people since it was posted online.
The migrants are facing large amounts of red tape because they have to endure lengthy procedures to apply for asylum through official ports of entry.
The pictures that emerged from the border near San Diego showed the full spectrum of activities that migrants are engaged in there.
Some are cutting each other's hair, some are scaling the wall illegally, and some are sharing a meal. Meanwhile, the US Border Patrol are shown as being ready to detain those who enter illegally.
The caravan in Tijuana is continuously growing and currently consists of thousands of migrants, which means that the situation is becoming a humanitarian crisis.
The caravan on the border is not a recent phenomenon, and there have been reports of it for nearly two months already.
In November, Homeland Security had a conference call with the media and stated that at that time there were over 500 migrants in the caravan.
Homeland Security said they are aware of the presence of women and children in the caravan, but that they think they are being placed on the forefront to gain media sympathy for migrants.
The migrants are being kept in Mexico while their applications are being reviewed, a process that could take up to 6 months or even longer.
Please fill in your e-mail so we can share with you our top stories!