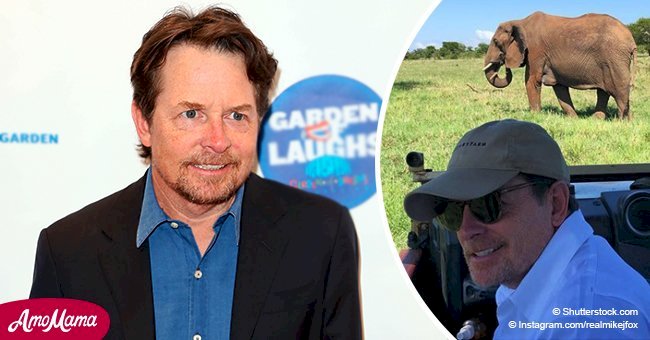 Michael J. Fox wishes a Merry Christmas to 'elephants' while on safari vacation in Tanzania
During Christmas time many people choose to gather at home with their families, but there are those who prefer to get away for a bit. Michael J. Fox is one of the latter.
He recently posted a picture on Instagram of himself on a game drive in the Serengeti National Park in Tanzania. In the caption, he wishes the elephants behind him a merry Christmas.
He is alone in the picture, so it is unclear if his wife and children are on safari with him or not. Although the photograph does not look like a selfie, which means that they could be with him.
Read more on our Twitter @amomama_usa.
DOWNWARD SPIRAL
While Michael may be all smiles in his Christmas picture, his life has not always been a happy one. He was diagnosed with Parkinson's disease when he was 29 years old and started going down a dark path.
He was angry about his diagnosis, and it made him turn to alcohol. He soon became an alcoholic, which negatively affected his marriage and his relationship with his children.
Eventually, he managed to get his life under control and focused on building his acting career. Luckily his marriage survived the ordeal, and he has been with his wife for 30 years now.
Instead of worrying about the future, Michael chooses to make every minute of the present count; which includes leading a healthy lifestyle.
DIAGNOSIS DISTRESS
Parkinson's disease is neurodegenerative, and symptoms slowly start appearing throughout many years, instead of being obvious all at once like many other diseases.
The symptoms include balance problems, tremors, and limb rigidity. Research into the disease is still ongoing, as the cause and cure are yet unknown.
The disease first attacks the central nervous system and then the motor system. People who had Parkinson's first become unable to walk and later may develop dementia.
Please fill in your e-mail so we can share with you our top stories!