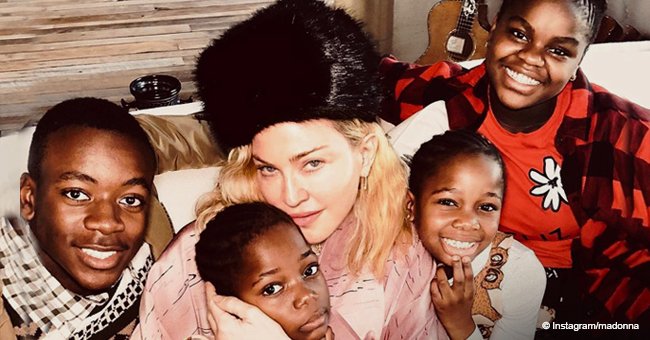 Madonna cuddles up next to her Malawi children in Christmas photo

The Queen of Pop Madonna took to Instagram to share a photo posing with her four adopted children from Malawi: David, twins Esther and Stella, and Mercy.
In the post, the singer appeared sitting in the middle of the group while hugging one of the twins tight and wearing a pink ensemble and a black hat. Three of her children were flashing their smiles at the camera while the fourth one looked somehow nervous.
For the caption, the Queen of Pop wrote: "Merry X-mas from Mambo and 4 of her 6 unicorns! Sending Much Love and many prayers for [peace] on Earth!"
PEOPLE'S REACTION
As soon as she uploaded that photo, her followers took to the comment section to share their thoughts.
"Love this picture of yours....beautiful kids you have....good vibes on your way mi querida Madonna!!!" wrote one user.
"This 'Material Woman won my heart many years ago. Now she's showing the world that her love 'is' real," admitted a second follower.
"Merry Christmas, Queen And 2019 with many blessings for you and your family! Kisses..." added another one.
THE ADOPTIVE CHILDREN
The four children Madonna was posing with joined the Queen of Pop's family via adoption. All of them were born in Malawi. The first child who Madonna took with her was 13-year-old David, who was battling pneumonia and malaria at the time.
Source: Instagram/Madonna Stories
Thankfully, the boy managed to get better and, at the moment, is a soccer player who joined the Benfica soccer team youth academy in August 2017, what drove Madonna and her family to move to Lisbon, Portugal.
In 2009, Madonna adopted 13-year-old Mercy James, an aspiring dancer. Finally, in 2017, twins Esther and Stella Mwale joined the family. Apart from them, the Queen of Pop is the proud mother of Rocco Ritchie, from her relationship with Guy Ritchie, and Lourdes Leon, from her relationship with Carlos Leon.
THANKSGIVING IN MALAWI
While uncommon, Madonna has uploaded photos showing her six children together. One of the most recent ones hit Instagram on Thanksgiving. To celebrate such milestone, the family traveled all the way to Malawi.
For the caption, she wrote: "What I am Most THANKFUL for! My Children have led me down roads and opened doors I never imagined I'd walk through. Fame , Fortune and Records Broken could never equal that which I treasure and value most," adding the hashtags "Grateful" and "Children."
Please fill in your e-mail so we can share with you our top stories!