Kris Jenner gets slammed because of her new $16K bag with a provocative writing about her wealth
Kris Jenner is facing backlash after showing off her insanely expensive Christmas gift.
The Kardashian/Jenner matriarch is no stranger to getting roasted on the internet, but more importantly, she's no stranger to living the rich life.
InStyle reports that the mom-of-six has a bag collection estimated to be worth over $750,000, so when she showed off her Goyard Malle Palace Trunk 70 Suitcase said to be around $16,000, Kris most likely didn't think it was a big deal.
However, it wasn't so much as the bag as the lettering across it that ruffled certain feathers. The luxury leather item carried the inscription:
"RICH AS [EXPLETIVE]."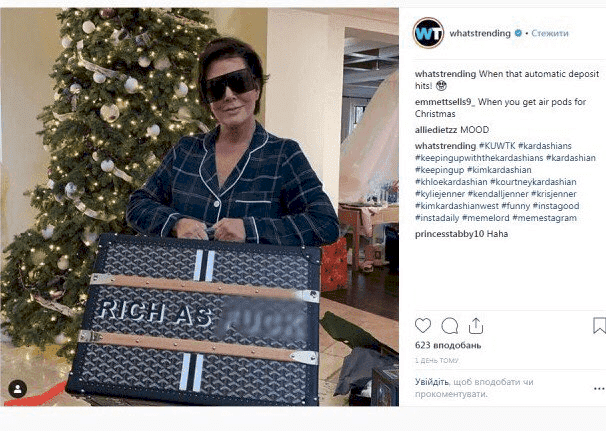 According to PageSix, the makers of Kris' new suitcase are a famously secretive and costly fashion house specializing in leather goods, often crafting pricey one-off items for its most loyal clients.
We don't yet know who gave Kris the exclusive gift, but it was her first child, Kourtney Kardashian, who shared the photo of her mother showing off her gift.
One of those who felt the picture was in bad taste is the controversial "Good Morning Britain" host, Piers Morgan.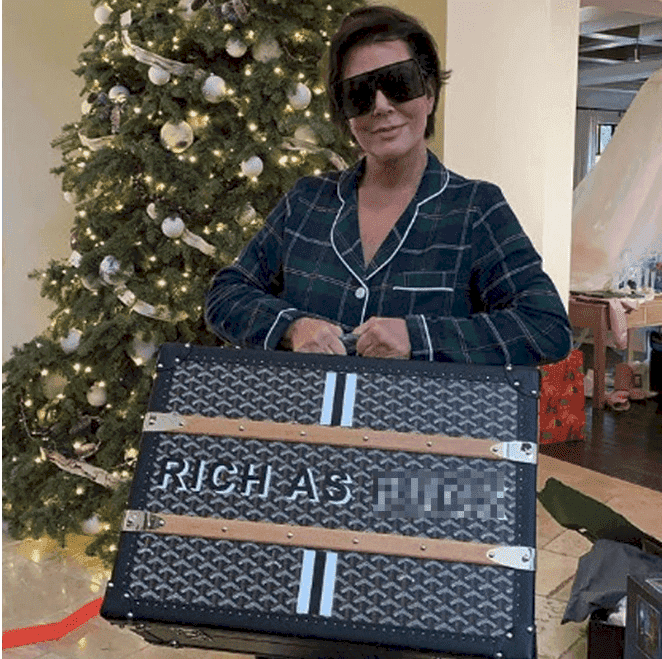 He shared the image of Kris holding up the suitcase in her plaid pajamas and black sunglasses and wrote:
"If you're curious why the Kardashians are all so greedy, narcissistic & repulsive, here's their mother yesterday."
The tweet has over 14,000 likes, so we can assume that quite some people agree with Piers. There are those, however, who see nothing wrong with the 63-year-old flaunting her riches and are even seeing a fun side to it.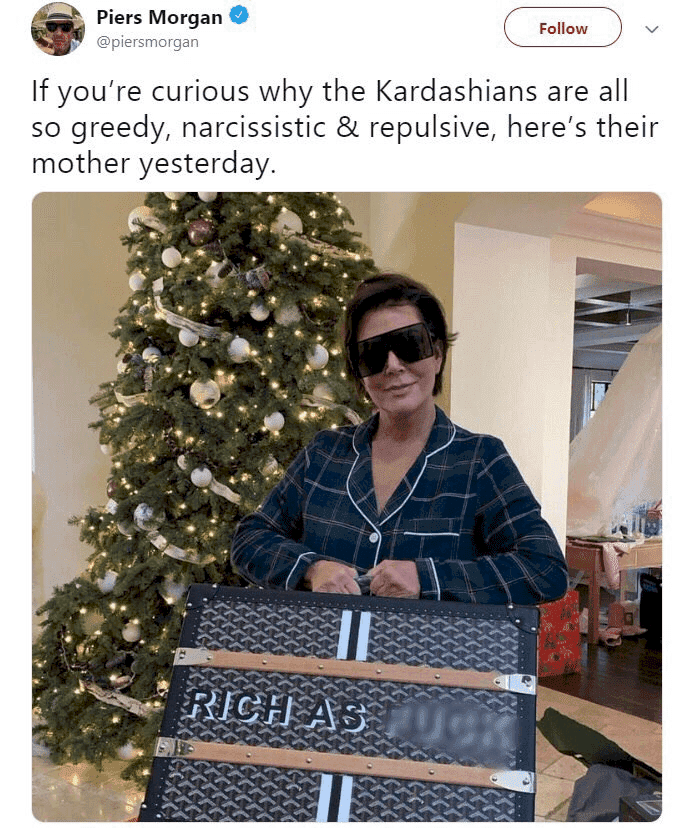 Many social media users have turned the picture to memes, comparing it to "when that automatic deposit hits;" others have superimposed "Broke" over the "Rich" to depict their financial status post-Christmas.
A Twitter user attempted to shut down critics of the "Keeping Up With The Kardashians" star:
"I personally think this is hilarious and shows she doesn't take herself too seriously. She is rich as [expletive] and it wasn't handed to her. She works hard just like u do. Jealousy isn't attractive on u at all."