Kris Jenner receives a $15,000 suitcase on Christmas with obscene inscription about being rich
The Kardashians enjoyed a big family Christmas and surprised mum Kris with an expensive suitcase that mirrored her substantial assets.
On Christmas day the Kardashians exchanged presents most can only dream of while probably still feeling the effects of the night before.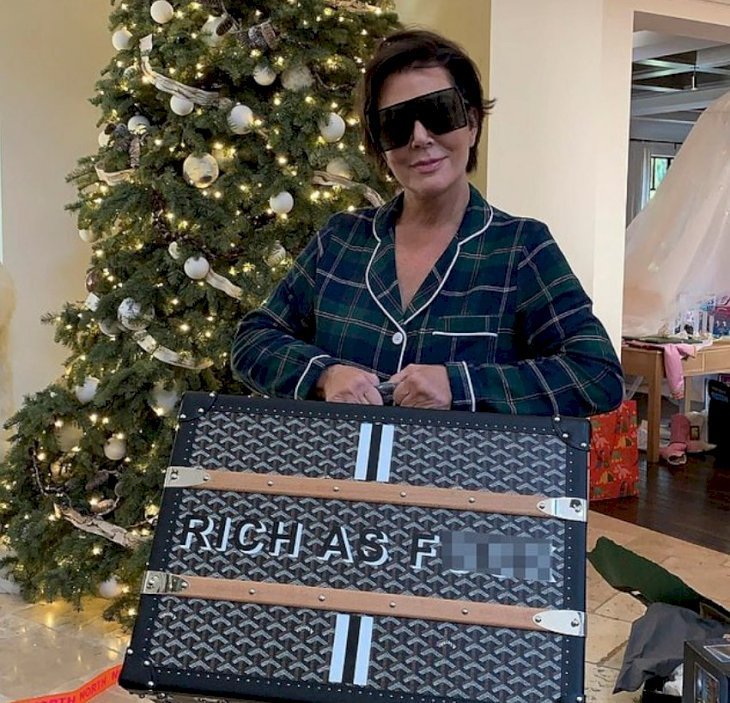 Later both Kourtney and Khloe posted a picture of Kris proudly holding up her present with a big smile while donning big square sunglasses. The writing on the suitcase read, 'Rich as F***,' and is reportedly worth $15,000.
A fitting gift for Kris, as she made a fortune with 'Keeping Up With The Kardashians.' Even though she did not appear in the annual Christmas card and got replaced as host by Kim for the family's annual Christmas party, she was all smiles.
Read more on our Twitter account @amomama_usa.
Kris was not the only one to be left out of the Christmas card this year as Kim explained the reason why:
"This year we waited until the last minute to do a card. Schedules we're changing, my husband was in and out of town. We were all together, so we had all of our kids come to meet us."
The Christmas card featured Khloe, Kylie, Kourtney, Kim, and all the kids. And even though Kris did not make it onto this year's card, she still called it one of her favorites as she captioned a picture of the card:
"My beautiful girls and my precious grandkids, who bring me so much joy!!"
Also notably absent from this year's Christmas card was Kris Jenner, Kendall Jenner, and Kanye West. But since everyone schedules are busy, Kim explained their absence:
"Kendall and my mom rushed to a meeting after this shoot, so this is what we have! As many of us as possible! From our family to yours Merry Christmas."
Last year Kris tried in vain to gather the troops for the annual Christmas card as Kim explained that last year's card "was so dramatic" that mum Kris had "given up" in trying to "wrangle" her kids and grandchildren.
34-year-old Khloe shared a black and white picture of her and mom Kris recently, and made sure mum knows how much she loves and adores her as the caption read:
"You are a Queen who has raised multiple mini Queens still trying to be as strong and fabulous as you are! I will love you more and more everyday Until the end of time."
But as many fans posted comments about the lovely mum and daughter pic, others did not hesitate to add their negative ten cents worth, as one user remarked:
"Would you keep IG if all photo editing apps were gone forever??? Lol."
Khloe's response is worth a second thought as she fired back with wise words:
"Would you? Sometimes I wonder why people comment if it adds no value to one's life? Maybe I'm just different... but I don't care to be negative or passive aggressive. Our world is toxic enough as it is. It's sad people care to criticize something like an editing app."
She drove the message home as she continued:
"Let it go, babe. Say something nice or just let it go. Don't add to the hatred in the world. How does this serve you, love?"