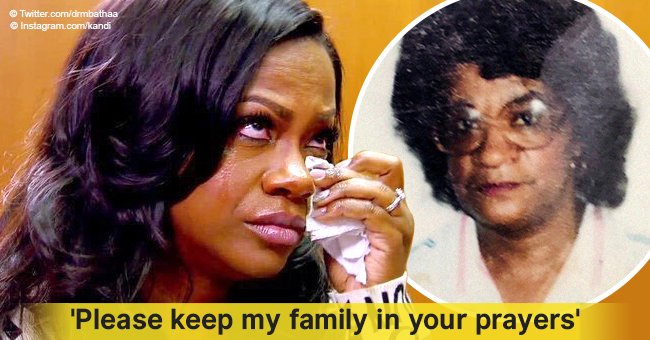 Kandi Burruss reveals her beloved aunt passed away and shares touching tribute
In the middle of the Christmas and End of the Year celebrations, Kandi Burrus has shared sad news about the passing of a beloved family member.
The "Real Housewives of Atlanta" took to Instagram on Thursday to pay tribute to her aunt Hazel, sharing with fans the news of the lady's passing.
Burrus shared a throwback picture of her aunt, and while she didn't share the details of what caused Mrs. Hazel's death, she did lament losing a loved one over such festive days and askes fans to keep her family in their prayers.
"I lost my Aunt Hazel this morning. Why does it always seem like we lose loved ones around the holidays? Please keep my family in your prayers."
Fans took over Kandi's comment section with positive thoughts and prayers to help her through the grieving process.
"@drmiaspeaks: Sending love and prayers to you and your family during this difficult time. May God grant you comfort and peace."
"@ladydee1287: Sorry for your loss to be absent from the body is to be present with the Lord."
"@luvcharm_348: Stay strong sis and lean unto Jesus for peace and understanding. May God bless you and hold you and your family in the hollow of his hands in the days to come."
A WOMAN OF FAMILY
For Burrus, the family is at the top of priority. Despite her busy schedule, Burruss always makes sure to take care of her husband Todd Tucker, and her two kids: daughter Riley and son Ace.
She and also spends time with her mother, Joyce Jones, and manages a restaurant called Old Lady Gang where Mama Joyce and two of her aunts, Bertha Jones and Nora Wilcox, share with the clients their most delicious southern cuisine recipes.
GIVING BACK FOR CHRISTMAS
The Burruss-Tucker family spend Christmas in Jamaica with Rasheeda Jones' family. Both women took to social media to share pics and videos of their Christmas dinner with their respective kids and husbands.
And just a few days before departing to the tropical destination, Kandi and Rasheeda joined Toya Wright to bring joy to ten different moms by buying all of the items on their kids' Christmas lists.
"We surprised 10 moms with everything on their children's wishlist, complete with brunch, Santa, gift wrapping and more," Burrus explained on Instagram.
They delivered bikes, dolls, remote control cars, laptops, clothes, video games and more, earned the praise of fans for giving back to the community and keeping themselves grounded despite all of their success.
Please fill in your e-mail so we can share with you our top stories!