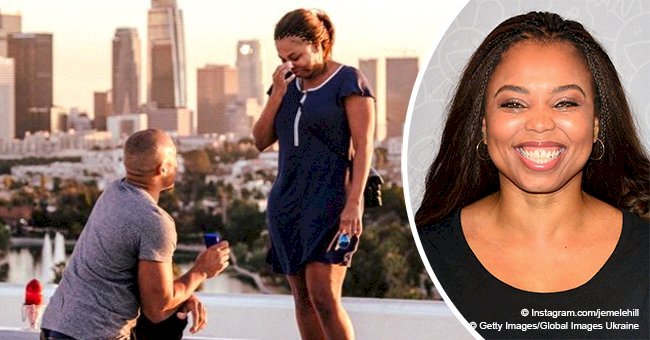 Former ESPN host, Jemele Hill gets engaged
The former ESPN host, Jamele Hill took to Instagram to announce her engagement. She posted a series of pics, shown below, of the moment.
On Thursday, Jamele Hill, 43, announced that her boyfriend, Ian Wallace had popped the question. She posted a series of pics from the moment she said yes.
"I've called this my year of transition. I left a job, started a new job, moved to a new city and now … I'm engaged to the love of my life. I'm overjoyed and immensely blessed." wrote Hill in the caption of the sweet images.
The first pic showed Wallace sliding the stunning engagement ring onto Hill's fingers. The next pic was the moment he proposed and the last pic focused on the stunning diamond ring.
Hill also took to Twitter saying, "So, uh, some personal news to share … I'm engaged."
Hill, who writes for the Atlantic and is a co-founder of Lodge Freeway Media, revealed in her Instagram story that she and Wallace went on a helicopter ride above Los Angeles. When they landed Wallace proposed.
"You deserve happiness and he deserves a true queen congratulations." commented a fan.
In August, the outspoken sports commentator left ESPN. The move came after she was embroiled in a controversy caused by a comment she made in 2017.
In September 2017, Hill had called President Donald Trump a "white supremacist" on Twitter. The comments caused a massive outcry and debate.
"I thought I was saying water is wet. I didn't even think it was controversial. I was in the middle of a Twitter conversation. I was replying to somebody. If I was really trying to make a bold statement, I would have added the damn president. I didn't. I was just talking casually with somebody." revealed Hill in an interview with Dan Le Batard on his "South Beach Sessions" podcast.
Please fill in your e-mail so we can share with you our top stories!