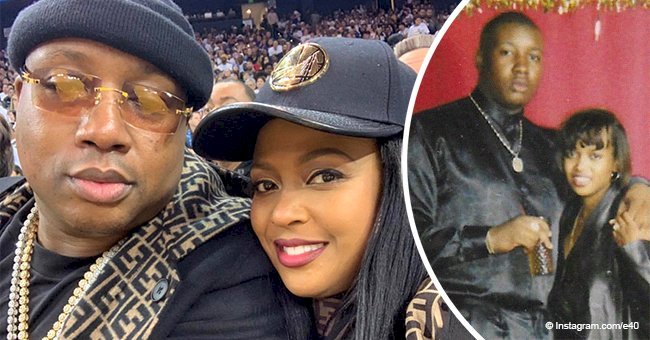 Remember Legendary rapper E-40: He and his wife are celebrating their 30th anniversary
E-40 and his wife, Tracy, are celebrating their decades-long relationship, and the secret to their successful marriage is not so much of a mystery, after all.
E-40, real name Earl Stevens, has been in the rap game for almost 40 years; he revealed in an interview that he first started rapping in 1979 when he was 11 years old.
Many may remember E-40 as the "Tell Me When to Go" crooner or even the serial entrepreneur with several business ventures, but not many people know that he has been married to the same woman for almost 30 years.
The 51-year-old took to Instagram on December 26 to crush on his partner. The couple cuddled up to each other for a selfie from their front row seats at the Oracle Arena, both sporting Fendi outfits and looking as loved-up as ever.
E-40's simple but weighty caption read:
"30 Y E A R S D E E P"
Staying married for as long as E-40 and Tracy have is a rarity in the world of entertainment, but the rapper, who says he's had an eye on his wife since she was in eighth grade, knows what has kept them going.
Interestingly, their secret is something we've all probably heard at one time or the other. In a 2013 interview with XXL, E-40 explained:
"It's always good when two people like the same things. The conversation has to naturally happen. That's when you get into 'what you like' and 'what are you in to.' Me and Her [Tracy] we love bowling, me and my wife. Any relationship, I'm talking about even with your kids, when you got something they can relate to—both of y'all—it helps. Otherwise it's going to be like, 'whats up, whats up.'"
The Bay Area rapper, however, noted that there would be times when two partners do not have similar interests. In that case, he advised the couple to prioritize communication.
"That keeps everything cool," he stressed. "Not holding anything back, you got to tell each other what's on your mind, that's really it. Otherwise when one gets mad at one, it can burst and you just let it out and it can just come out wrong."
E-40 also credits his wife for helping him stay grounded and out of trouble. His Instagram page is filled with throwback pictures of their relationship and the sweetest messages ever.
The pair tied the knot in 1991 and still look like newlyweds in love.
Congratulations to the Stevens!
Please fill in your e-mail so we can share with you our top stories!