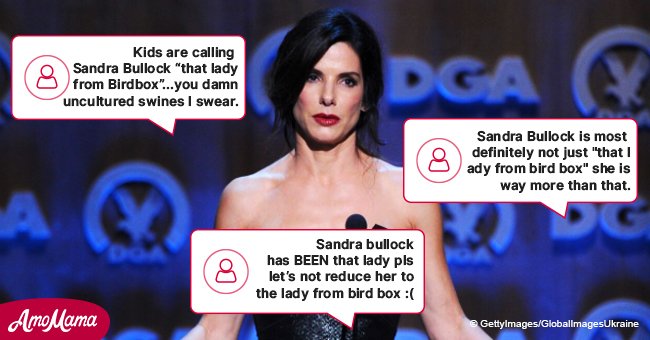 Sandra Bullock's fans at a loss after tweet of someone who didn't recognize 'That Lady from Bird Box'
Sandra Bullock has been around for several years but some youngsters are only now learning who she really is due to "Bird Box."
The new Netflix movie has been drawing a lot of attention, but, unfortunately, not all of it is good, especially for Bullock's fans.
Some people have taken to Twitter to defend the actress, who is being commonly referred to as 'the Bird Box lady,' when she is so much more than that.
SOMETIMES IGNORANCE ISN'T BLISS
It all started when a fan compared Bullock to the late King of Pop, Michael Jackson, which led people to flood the social media platform with heated responses.
Most of those who stood up for Bullock belong to an older audience, but age is not an excuse not to recognize one of the most famous faces in Hollywood.
Bullock is an incredibly talented actress, and being called 'the Bird Box lady,' seems rather insulting for someone who has won several awards in the past, including an Academy Award.
AN ABSOLUTE HIT
"Bird Box" has grown in popularity due to its dark plot, which revolves around a woman named Malorie who embarks on a perilous journey through the woods with her children while blindfolded.
The movie takes place five years after a mysterious force destroyed the world population, giving viewers a sense of what it would be like to live in such times.
Bullock's performance is nothing short of amazing, but even before "Bird Box," the actress already had a reputation that she built from the ground up
She starred in "The Blind Side," which she won an Oscar for, "The Proposal," "While You Were Sleeping," "The Lake House," "Crash," and the "Miss Congeniality" franchise.
DEEPLY IN LOVE
The famous actress, known as 'America's sweetheart,' is currently in a very happy relationship with Bryan Randall, a photographer, after several failed relationships.
The two met when Bullock hired him to take photos of herself with Louis and Laila, her two adopted children, back in 2015, and they started dating not long after that.
Follow us on our Twitter account @amomama_usa to learn more.
Please fill in your e-mail so we can share with you our top stories!