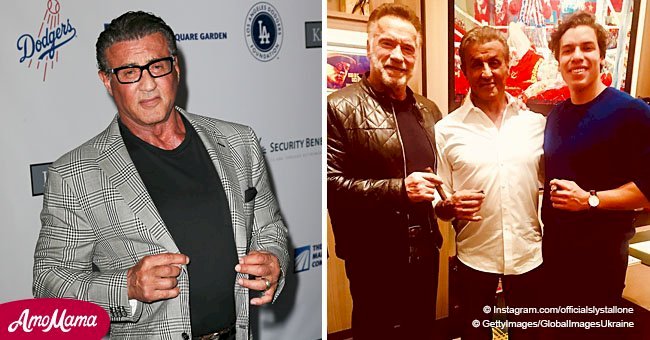 Sylvester Stallone reunites with Arnold Schwarzenegger and his son for a smiling Christmas pic
On Christmas Eve, Arnold Schwarzenegger and his son Joseph paid longtime friend Sylvester Stallone a visit for some holiday cheer.
On December 26 Sylvester shared a picture of the three men smilingly posing with cigars and all as they enjoyed an evening together before the big day.
The 72-year-old Sylvester looked happy and relaxed while flanked by Arnold and Joseph, 21, who looked casual in a midnight blue sweater and dark trousers, while 71-year-old Arnold opted for dark wash jeans, a black shirt, and a black quilted leather motorcycle jacket.
Sylvester captioned the happy photo:
'The big man and his son, Joseph, dropped by Christmas Eve And livened everything up!'
To some, it may come as a surprise that the legend that is Sylvester Stallone was the most google-searched actor of 2018.With recently shared data from Google Trends including topics such as television, people, actors, shows, athletes, and so forth, our beloved Sly came in first.
The global top 10 trending list for actors and actresses alike are as follows:
Sylvester Stallone
Logan Paul
Pete Davidson
Bill Cosby
Noah Centineo
Donald Glover
Allison Mack
Gary Oldman
Sapna Choudhary
Roseanne Barr
Some of the names on the list would strike as obvious, as Roseanne Barr coming in at the 10th spot, made headlines several times this year after the controversial blabberings that left her kicked off the spin-off of 'Roseanne.'
Another name that comes as no surprise is Bill Cosby, who became a convicted sex offender. Names like Logan Paul and Allison Mack also made the list for less favorable reasons.
A fairly unknown name in the States is no. 9 on the list, Sapna Choudhary, who is an Indian performer/dancer, and would fall off the list if results only showed the United States search patterns.
Sylvester mostly earned his first place spot because of his film work. The star had gained a lot of publicity with his latest movie, 'Creed II' which came out in November. Fans are also looking forward to the premiere of Sylvester's upcoming film, 'Rambo V: Last Blood' which will come out in 2019.
Roles in the 2017's Guardian of the Galaxy Vol 2 and a cameo on 'This is Us' also kept Sylvester trending and is likely to continue next year with all new movies he is working on.
He had his fair share of bad publicity early this year after the state of California ended the statute of limitation on sex crimes including child molestation, forcible sodomy and rape, and a woman decided to come forward with her allegations.
The woman accused Sylvester of raping her 27 years ago, but due to insufficient evidence and contradicting claims, no charges got filed.
Consider following if you are on Instagram. Or read more on our Twitter account @amomama_usa or both!
Please fill in your e-mail so we can share with you our top stories!