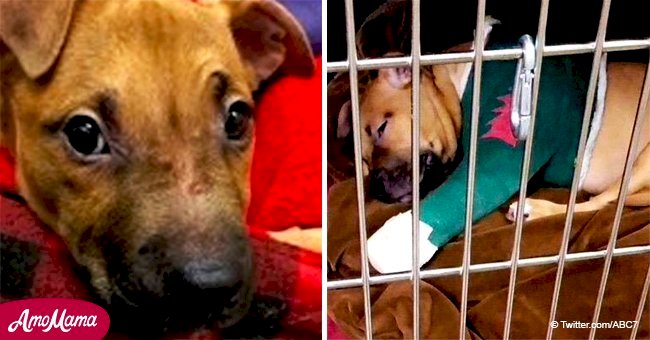 Puppy found with broken bones inside a backpack recovers after surgery
A pit bull pup of aged 10 to 12 weeks was rescued by a family and is finally healing from the injuries caused by past abuses.
A GoFundMe page was created for the pit bull puppy, named Pablo, who was discovered inside a backpack in Hancock Park by another dog named Roxy. The family of the second dog then quickly took him to a veterinary.
Pablo, whose muzzle was taped shut when he was found, received care under the Veterinary Care Center of Santa Monica Boulevard, Los Angeles. The vets immediately found that Pablo's ribs, jaw, and shoulder were broken.
They concluded that Pablo's injuries required immediate attention and a major orthopedic surgery had to be carried out.
Fortunately, Hope for Paws, an institution working for the welfare of these canines, came forward and sponsored his treatment. They agreed to pay for some of his medical expenses.

Source: Twitter/ABC7
Dr. Lisa Youn, the doctor who treated Pablo, stated that the pup was one of the most 'loving, playful little guy,' and one could have never guessed that anything was wrong with him.
"He tries to scamper about. He has the big splint on, but it doesn't stop him at all. He will lick every face of everyone that comes near him. He is expected to make a full recovery," Dr. Youn confirmed.

Source: Twitter/ABC7
The GoFundMe page for Pablo was created by the veterinary care center so that it may help in the additional treatment of the healing pup.
In the page, the care center explained Pablo was brought to them by an 'angel' named Steve. The several fractures that were found on the dog's body were concluded to have been caused by 'human or humans.'
'I may have some bumps and bruises but my spirit has not been broken. I am so sweet and loving and I am just thankful to be saved and have nothing but love and forgiveness to give,' the care center further wrote, pleading for any kind of support whether in the form of Pablo's adoption or by contributing for his medical expenses.
While there are sadly some people who inflict pain on these innocent animals, others such as Steve also act as their Good Samaritan and provide the selfless care that these animals need.
Previously, another woman named Audra Petraskiene also showed a similar act of profound kindness by saving the life of a dog abandoned near a Lithuania riverbank.
Please fill in your e-mail so we can share with you our top stories!