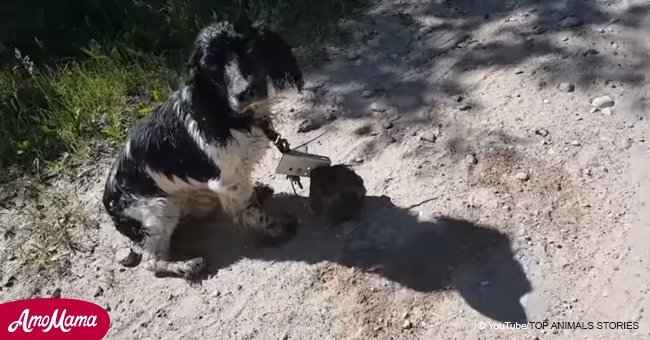 Woman rescues dog near riverbank with something heavy tied around its neck
A kind woman rescued a poor dog after she found it shivering and with a makeshift anchor tied around its neck.
Driving along the road, Audra Petraškienė noticed something strange near the river close to her home in Lithuania.
Near the roadside was a shivering and wet dog. It was all alone and seemed to need help.
Petraškienė stopped her vehicle and went straight to the poor pup.
Follow us on Twitter at AmoMama USA for more details and updates.
EXPERIENCING THE WORST
Upon observation, Petraškienė realized that the dog went through a cruel experience, which could have led to its death.
The woman believed that the dog had emerged from the river nearby.
Supposedly, a ruthless person had the intention of ending the dog's life by drowning the animal in the river.
On the dog's neck was a makeshift anchor that was intended to keep the dog submerged in the water.
Speaking with the Dodo, Petraškienė's daughter, Andra said, "Apparently, somebody put a heavy metal item on his neck and dropped him in the river to drown. The dog was scared and shaking from cold as well."
FIGHTING FOR HIS LIFE
Petraškienė captured the entire moment when she rescued the shivering dog.
Nobody fully knew how the dog was able to get itself out of the water, but it was fortunate that it survived.
Andra said that the dog was a "real fighter."
Petraškienė decided to take the dog home, and she removed the metal around its neck. She also took the pup to the vet to see if it had any injuries.
Luckily, the dog was healthy and is currently under Petraškienė's care.
She had informed the police about the incident, and she is determined to find the person responsible for the animal cruelty.
STAYING WITH ITS SAVIOR
Until now, nobody knows who the culprit was, but the dog is safe with Petraškienė.
Speaking of her mother, Andra said that Petraškienė would do what was best for the dog.
She said, "I am very proud of her. She loves animals and always takes care of them."
Meanwhile, Rumble, a poor puppy that was left dying by its owner, is now in the care of a foster family. He was left seriously injured but is now in recovery.
He was found in the bushes at a mobile home park in Michigan in July 2018, and he was only five to six weeks old at the time.
Slowly, the poor dog is making progress and is doing well.
Please fill in your e-mail so we can share with you our top stories!