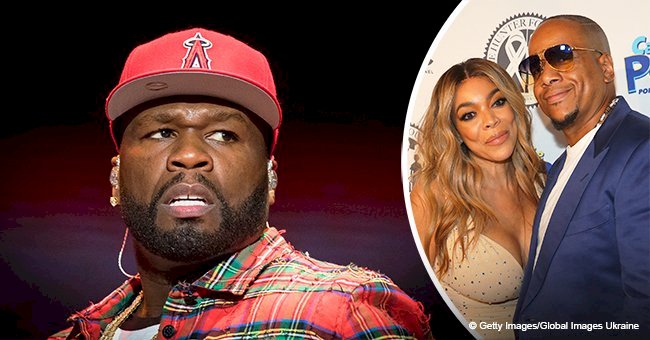 50 cent drags Wendy Williams because of rumors about her divorce with husband
50 Cent and Wendy Williams have been known to lash out at each other. This time the rapper took to social media to drag the talk show after it was reported that her husband Kevin Hunter recently impregnated his alleged mistress.
'In Da Club' rapper, 50 Cent chose to mock talk show host, Wendy Williams, on social media. The taunt comes just after reports surfaced that her husband Kevin Hunter is allegedly expecting a baby with his mistress.
The rapper poked fun at the rumors about William's husband. He posted a taunting screenshot of the online headlines and called William's out.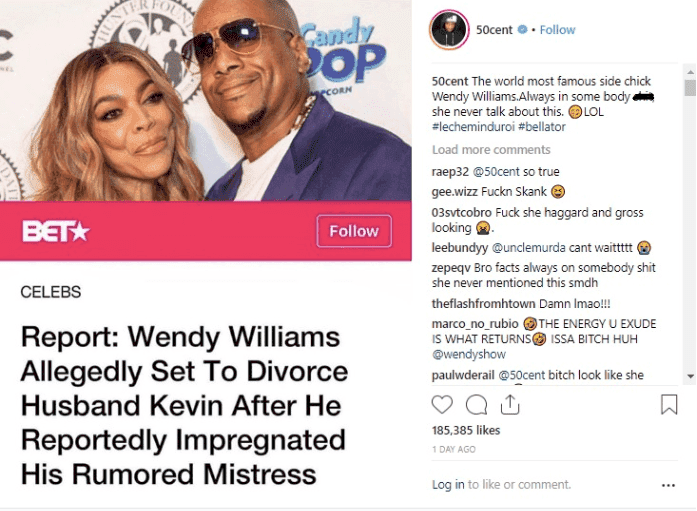 https://www.instagram.com/ 50 Cent
"The world most famous side chick Wendy Williams," wrote the rapper in the caption, adding, "Always in some body shit, she never talk about this."
According to reports, Williams' longtime husband, Kevin Hunter, has allegedly "impregnated his mistress." The sources claim the mistress is "still living just down the street from their house," and that a divorce between Williams and Hunter supposedly in the works.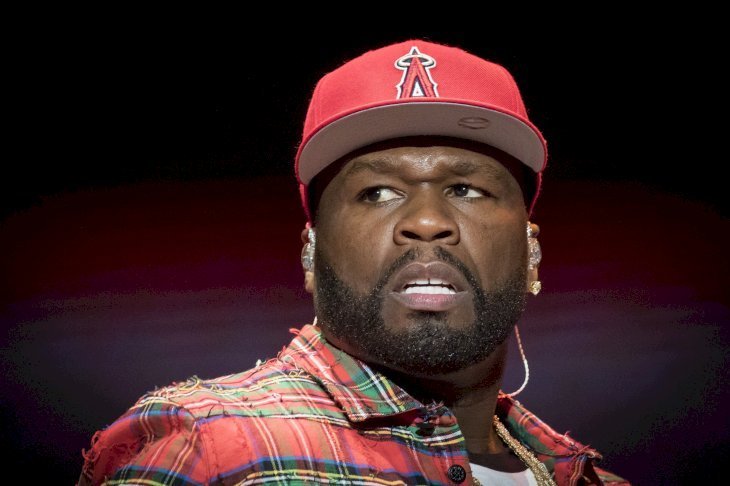 Getty Images
The rumors went on to claim that Wendy's husband allegedly living a "double life" have been bubbling for over a decade. The pair had tied the knot back in 1997.
Last year, when rumors had first popped up of the alleged affair, Williams had shut them down saying she was "standing by her guy." This time Williams has not responded to the rumors at all.
50 Cent is not the only star who Williams is feuding with. Another rapper who goes by the name Future is also unhappy with the TV personality.
She had commented on his baby mother dramas. Her comments resulted in her finding herself in an unpleasant back and forth with him
She also went toe-to-toe with Iggy Azalea. She had started an argument with teen rapper, Bhad Bhabie, and Iggy fired back.
"Family Matters" actress Cherie Johnson also lashed out at the talk show host. On her blog, "Advice For My Sistas" she called Williams out. Johnson also posted a clip of herself on Instagram, admonishing Williams and mocking her personal life.
"This is my last aint-sh*t, talkin' sh*t post of 2018. Hey Wendy, I heard that your husband got his mistress pregnant for the second time and you about to play stepmama again." said Johnson.
Please fill in your e-mail so we can share with you our top stories!