CNN host laughs when Trump's chief of staff says nobody blames president for debasing politics
Acting White House chief of staff insisted that "nobody blames the president" for debasing politics. His statement sent CNN host, Jake Tapper into laughter.
CNN host, Jake Tapper laughed at Mick Mulvaney. The acting White House chief of staff insisted that "nobody blames the president" for debasing politics making Tapper chuckle.
On Sunday's State of the Union, Tapper and Mulvaney discussed Congresswoman Rashida Tlaib. The congresswoman had used swear words to discuss a potential impeachment and Trump's reaction.
"President Trump obviously is not exactly known as a delicate flower when it comes to the language. He's sworn publicly quite a bit," Tapper said then asked Mulvaney, "Does President Trump think that he's played any role in the coarsening of our national discourse?"
Mulvaney intently denied that President Trump believes he played any role. He firmly stated, "No, No" to the questions.
SPOT ON! Hard not to laugh. @JakeTapper laughs in Mick Mulvaney's face after he says nobody 'blames the president' for debasing politicshttps://t.co/i14mBrb7Oc

— Raw Story (@RawStory) January 7, 2019
Tupper pressed him for further answers asking him what he thinks about the matter. To which Mulvaney again defended the president.
"I think people can be coarse as clearly this member of Congress is," Mulvaney stated. "I don't think anybody blames the president for the coarsening of the language."
Tapper laughed at Mulvaney's response. He then went on to question him more saying, "You don't think anybody in the country blames the president?"
"Well, you probably do," Mulvaney eventually admitted. He quickly amended his answer adding, "But I think there are more important things."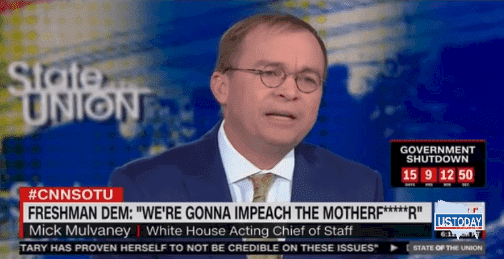 On Thursday evening, Tlaib told a crowd at a reception for the Move On campaign "we're gonna go in there and impeach the mother[expletive]." The next day, Trump condemned Tlaib for using the profanity against him at a press conference in the White House Rose Garden.
He claimed her language has "dishonored herself" and "her family."  Trump, who was taped saying he wants to grab a woman by her [expletive], rebuked Tlaib's language as "highly disrespectful" to the country.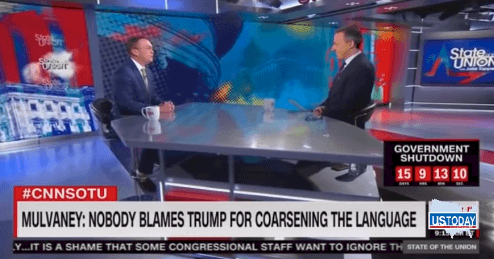 Tlaib stood by her comments. She refused to apologize for her choice of words saying that Trump had finally met someone else that's not afraid to use coarse language.
"I think President Trump has met his match. It's probably exactly how my grandmother if she was alive, would say it. Obviously, I am a member of Congress and things that I say are elevated on a national level, and I understand that very clearly." said Tlaib.