Barack Obama embraces his little baby fan and it's looks too cute (video)
Former President Barack Obama still has that baby-kissing knack.
Kissing babies has been a time-honored tradition among electoral candidates for political office.
It started way back in in 1833 when Andrew Jackson - who was running for his second term as US President - swept up a runny-nosed baby and planted a smooch on it, declaring that it was "a fine specimen of American childhood."
Jackson won his second term, and baby-kissing became "the thing." Barack Obama did his share, and it looks like he's still going strong, to judge from a video quickly going viral on YouTube.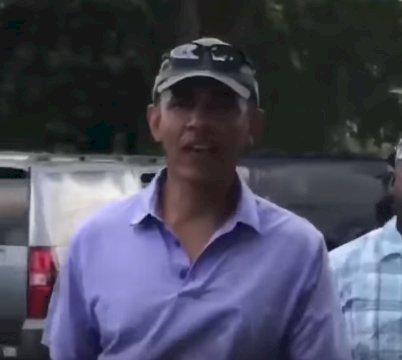 "To have the First Black President ever to initiate holding our daughter, let alone kissing her on the forehead, has to be one of the most pivotal moments of any [parent's] life."
Chelcie Edwards
MEETING FANS IN HAWAII
Barack Obama was playing golf in his native Hawaii when he came across a group of admirers, among which was tiny Paisley Edwards.
Obama asked Paisley's mom Chelcie if he could hold her, and he asked her age. Paisley is, as the former President exclaimed, "brand new," at just 7 weeks of age.
Obama met his youngest fan at a golf tournament in Hawaii. https://t.co/yWp76Z3C96

— HuffPost Politics (@HuffPostPol) January 7, 2019
HANDLING THE BABY LIKE A PRO
Obama, who is the father of two, handled little Paisley like a pro. The former President looked quite broody as he cuddled the tiny tot, and planted a gentle kiss on her forehead.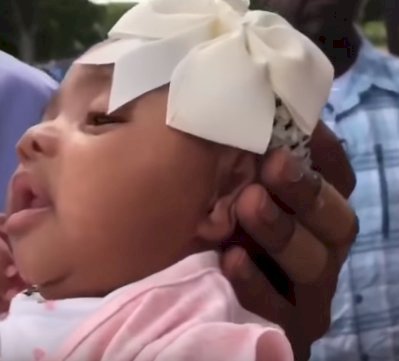 President Barack Obama called for "new blood," and for young people to step forward and take up leadership roles.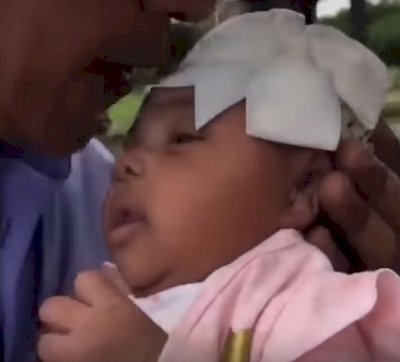 A HISTORICAL PRESIDENTIAL KISS 
Paisley's parents were touched by his loving gesture, which they described as a blessing and a pivotal moment in their lives.
It will certainly be something to tell baby Paisley about as she grows older and may even inspire her to run for president herself.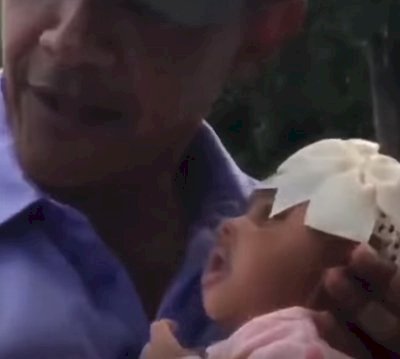 Obama confided in Paisley's father Joseph Edwards that "You can't beat having daughters!" Barack Obama shares daughters Sasha, 17 and Malia, 20, with his wife Michelle.
Read more about the Obamas on Twitter Amomama USA.
Barack Obama says "new blood" is needed in political leadership, criticizes those who "cling to power" https://t.co/tOVtUKWCsF pic.twitter.com/3YL8UHxclO

— Newsweek (@Newsweek) January 8, 2019
BARACK OBAMA CALLS FOR NEW LEADERSHIP
During his recent visit to Hawaii former President Barack Obama called for "new blood," and for young people to step forward and take up leadership roles.
According to Obama, there is a serious deficit of new ideas, and commitment to change and openness to innovation in the current political class.
"People cling to power instead of seeing the power in other people."
Barack Obama
The former President was addressing the guests of the Obama Foundation at an event in Hawaii.
Obama's Foundation aims to create new opportunities for boys and young men of color, providing support through mentoring, education, job training, and scholarships.
Barack Obama hopes to inspire young Americans of all races to take an active part in their countries political life, and bring about a renewal of the nation's leadership.
In a related story, Barack Obama shared in the Thanksgiving spirit when he joined volunteers from the Obama Foundation and distributed food to the needy in Chicago.