A couple in their 70's finally get married 57 years after losing contact
Barbara Cotton and Curtis Brewer lost contact for decades, but with the help of the internet they met again; know the couple's story.
Do you believe that love can overcome time and distance? If not, wait until you know the story of this couple. Barbara Cotton and Curtis Brewer met when they went to school, more than 50 years ago, but later they lost contact and lived different lives.
After reuniting years later in Milwaukee, Wisconsin, Curtis took the courage to ask for her hand in marriage. "I called her on the phone and said, 'Would you?' That's all I got out, she said yes, would you marry me -- I couldn't get marry out," he said, so in July 2018 the couple became engaged.
Technically, they also never stopped being sweethearts, but the circumstances of life separated them, the death of her mother, for example, or traveling to another place for his university education. Follow us on Twitter for more @amomama_usa.
High school sweethearts finally tie the knot — 57 years later https://t.co/VEswmzf8xv pic.twitter.com/Qj6UNwCGFk

— New York Post (@nypost) January 7, 2019
But with a little help from technology, their paths crossed again. "She saw me on classmates.com, I replied back, I answered very quickly," said Brewer.
"We were high school sweethearts and I went to his junior prom and senior prom. We dated through high school and went steady. No one really loved me as much as Curtis loved me. It was such an unconditionally loving relationship and no one was ever able to match that." Cotton told Fox 6.

Finally, on January 5, they got married and now they have opened a page in the Go Fund Me donations site, to raise money and be able to travel for their honeymoon.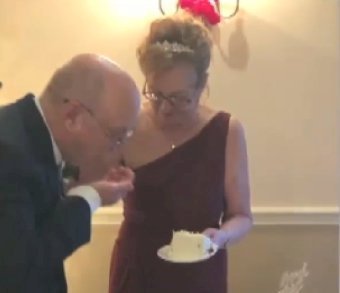 In a similar story, Nina Marino got the wedding of her dreams when she married her childhood best friend inside her hospital room just three days before she passed away.
After exchanging vows with 21-year-old Joey Williams, Marino died due to cancer. Sharing their story, Williams said they initially met as children at a summer camp for children with severe medical conditions.
Their friends, family, and the hospital staff all helped to make Marino's dream wedding turn into a reality. Williams said it was the perfect wedding. Unfortunately, he lost the love of his life three days later.