Furious transgender shopper threatened a store worker after he called her 'sir'
It is safe to assume that anyone would be perturbed if they were misgendered; regardless of whether they are cisgender or transgender. A transgender woman recently experienced misgendering in a store and stood her ground.
A clip of the incident at a GameStop store in New Mexico was posted online and has since gone viral.
The clip shows a male store assistant referring to the woman as "sir" and the woman becoming visibly angry about the way in which she was misgendered.
Read more on our Twitter @amomama_usa.
MISGENDER MAYHEM
In the video, the woman demands her money back from the store assistant and repeatedly swears at him. Another customer also calls her "sir," and she then redirects her anger at them.
The customer tries to calm her down, as does the store assistant, but this does not have its desired effect and seems only to enrage her more.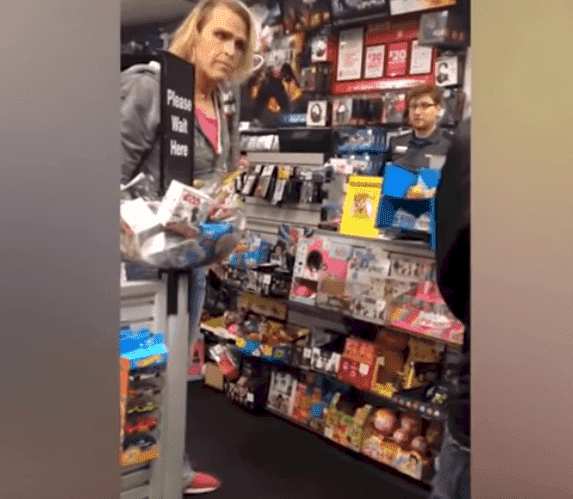 The woman then yells back at the store assistant and threatens to fight him outside the store. She follows this up by kicking a pile of equipment on her way out, only to return a few seconds later demanding the store's corporate number.
The store assistant makes a last-ditch effort to calm her down by apologizing for the incident, but the woman is still furious and claims that she will dissuade other LGBT people she knows from frequenting the store.
MINISTRY OF MURDER
Misgendering is not the only challenge that transgender people face, sometimes they experience matters of life and death.
A transgender woman in Detroit was murdered, and a local pastor has been charged with the crime. She died after he shot her near East McNichols and Brush.
Detroit pastor charged with murder in shooting death of 36-year-old transgender woman, authorities say. https://t.co/3CYCMRKpMe pic.twitter.com/KuVAGyJ57m

— ABC News (@ABC) December 13, 2018
The motive for the murder is unknown, but police have evidence that the pastor fled the scene after he committed the crime.
MISREPRESENTATION OF MINORS
The principal of a high school in Minnesota was recently under fire after video footage emerged of staff unlocking a bathroom stall while it was being used by a transgender student.
The student is a transgender female and was using the school's girls' bathroom. A few staff members were in the bathroom and yelled at her to exit the stall. When she refused they unlocked the stall door using a yardstick.
The principal responded to the now viral video by saying that it is a misrepresentation. However, no reason has been given as to why it is a misrepresentation or what the reason was for violating the student's privacy.