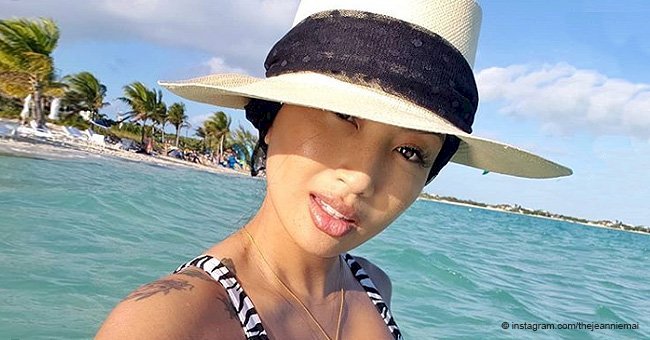 Jeannie Mai flaunts fuller figure in zebra-printed bikini while at the beach after weight gain

Jeannie Mai continues to celebrate her fuller figure as she soaks up the sun on an island and looks forward to a "delightful year."
While many people take pains to lose weight, Jeannie Mai has been all about gaining it. The talk show host is sporting a fuller figure and she's clearly loving it. She recently flaunted it in a swimsuit pic while vacationing in the islands of Turks and Caicos.
HITTING WEIGHT BOTTOM
Early last year, Jeannie was faced with a glaring realization that her skinny 103 figure wasn't making her happy. She looked frail in pictures and she felt she was being harsh on herself by trying to maintain the weight through food deprivation.
"If my spirit was a body shape, what would it look like? It would be sexy, curvy and strong."
At that point, she threw out her weighing scale then met with a doctor who helped her to gain healthy weight. In three months, she gained 17 pounds and looked better than ever. She debuted before and after pics on Instagram where she wore the same dress and she looked amazing with the added weight.
CELEBRATING A FULLER FIGURE
Since then, Jeannie has been making sure she doesn't lose any more pounds because her goal was to have a body shape to match her spirit. Back in August, she explained to the Huffington Post how that mindset drove her to gain weight.
"If my spirit was a body shape, what would it look like? It would be sexy, curvy and strong. It would be standing strong against things that are against me ― that wasn't the girl I saw in the photo. I don't want it to be hungry or frail. I want it to be able to take on things like my divorce and this crazy industry. So that's why I decided to do everything the opposite of what I had done before. Saying yes to carbs, eating full, nutritious meals and allowing myself to get bigger in all areas."
In recent photos, Jeannie is celebrating the weight she's now comfortable with. She would often share photos of her amazing body, one that matches her spirit.
LOOKING FORWARD TO A DELIGHTFUL YEAR
She was recently on vacation in Turks and Caicos and made sure to flaunt her curves in a black and white bikini top. There's no doubt her year is off to a good start with the healthy vibes she's putting out. In her caption, she predicts, "it's gon be a delightful year."
We couldn't agree with her more.
Please fill in your e-mail so we can share with you our top stories!