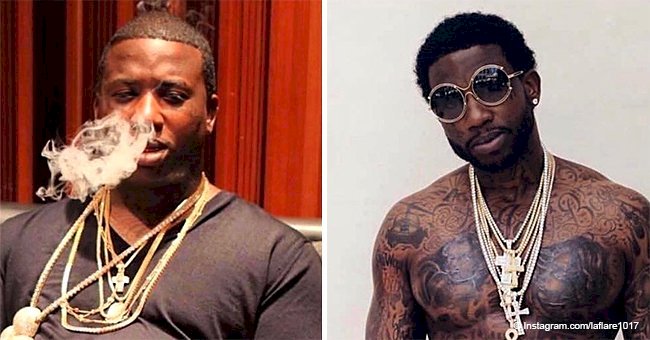 Gucci Mane shares old photo of himself, showing off his massive physical transformation
Gucci Mane is saying hello to the new year with an ounce of inspiration. His latest post is proof of his incredible physical transformation after his release from prison a couple of years ago.
Gucci Mane is encouraging his fans to "use me as motivation" in a new post where he showcases his efforts at staying fit. In two photos he shared back to back, Gucci reveals the amount of weight he lost from the time he was an overweight, sloppy alcoholic and druggie to the time he slimmed down after taking his health seriously.
"[Prison] was one of the best things that ever happened to me, looking back on it."
A LIFE-CHANGING DECISION
Back in 2016, Gucci opened up about how he made a life-changing decision to clean up his act while serving time in prison for threatening police officers who caught him with a handgun and a bag of weed and assaulting an army sergeant with a bottle over the head. Speaking to Vogue, he said,
"Before I was incarcerated, I had gotten so overweight that I couldn't fit into any of the clothes I wanted to wear. So with the time I was away, I decided I was going to lose weight so I could be able to wear all the brands that I really like."
After his release from prison in July that year, Gucci impressed fans with his incredible weight loss. While still on house arrest, he continued to embrace his new lifestyle of eating healthy and hitting the gym.
HOW PRISON CHANGED HIS OUTLOOK
Coinciding with his physical transformation, Gucci also dedicated his life after prison to being a changed man. He revealed to The Guardian that it was life in prison that motivated him to become a better person.
"[Prison] was one of the best things that ever happened to me, looking back on it,"
"It's a life-changing experience, being in a place that is full of death, full of violence, full of rage, full of despair. It motivated me to change my life because I'm never going back there."
A CHANGED MAN
True to his intent, Gucci, born Radric Davis, was reborn into a totally different man. With 70 pounds of him gone, he managed to release two albums, two mixtapes, and three EP's in the short time after his release from prison.
He also wrote an autobiography and discovered true love. He married Keyshia Ka'oir in October 2017 and appeared in a wedding special after.
His sense of style has also been news fodder. He now wears fashionable clothes, and took them with him when he traveled to Europe for the first time.
This summer, Gucci and his wife traveled to Florida and spent time at a Disney resort. They shared photos from their trip, flaunting their fashionable outfits and sweet dates.
Gucci has come a long way just by the looks of his life today. Fans can certainly find motivation from the new life he made for himself.
Please fill in your e-mail so we can share with you our top stories!