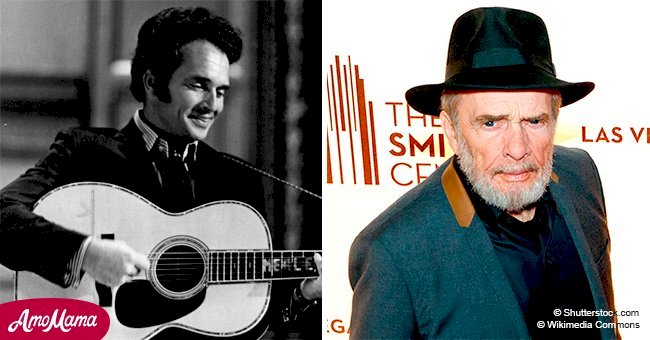 This is the very last song Merle Haggard recorded and it's pure gold
Merle Haggard was a singer and songwriter who is still regarded as one of the best country artists of all time. Recently his last ever recording was made public, to the joy of his millions of fans.
Haggard's life was anything but boring. In his youth, he was imprisoned several times following the untimely death of his father. He was married five times and had six children.
The colorful experiences he had made for great lyrics to his songs, as each of them are punctuated with the authentic human lived experience.
In 2015 Haggard was treated in a California hospital for pneumonia, but manage to recover. Unfortunately, he had to postpone several concerts while he was hospitalized.
A year later pneumonia resurfaced in a more aggressive form. He was diagnosed with double pneumonia and passed away due to complications with his condition on his 79th birthday.
He continued recording music up until the end of his life. The last song he ever recorded was called "Kern River Blues" and was recently released.
The song centers on Haggard's time in Bakersfield, California during the 1970s. It is a haunting track with nostalgic imagery in its lyrics.
Merle Haggard's daughter, Dana, passed away just two years after her father did. She was his firstborn child from his first marriage to Leona Hobbs.
The family ties run deep in the Haggard family as Dana was in a band with her brother, Ben, and her father called "The Strangers."
Dana is survived by her mother, three siblings, and two half-siblings.
While Haggard might be known for his musical talents, there is more to him than just that. He was born in California in a train boxcar which was later converted into his family's home.
At the young age of 14, he hitchhiked and caught freight trains to escape imprisonment. He was not entirely successful in his escape and ended up in jail, where he was inspired to change his path.
He was pardoned unconditionally by Ronald Reagan in 1972 for his past crimes. He started a musical career which won him many awards and recognitions, such as an honorary Ph.D. from California State University- Bakersfield.
Please fill in your e-mail so we can share with you our top stories!