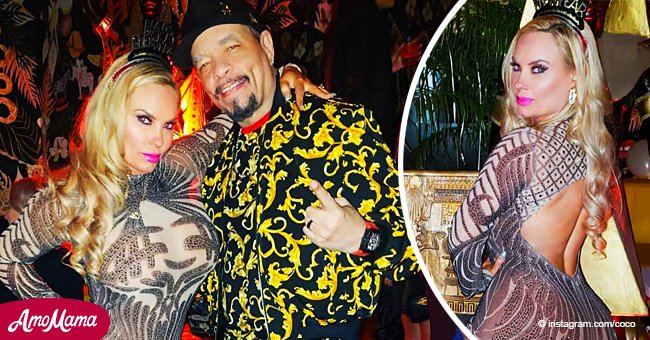 Ice-T's wife turns heads in sheer backless catsuit at their 18th wedding anniversary
.Coco Austin dazzled on New Year's Eve in a daring catsuit alongside husband Ice T.
Like every loved-up couple, Ice T and his wife Coco Austin, celebrated New Year's Eve as a special romantic evening, but for this celebrity couple this means so much more.
It was on New Year's Eve 18 years ago that Ice T and Coco tied the knot, and they celebrated their anniversary in Los Angeles, at the Nightingale Plaza.
"Still deep in love. Beautiful baby girl! Zero complaints! It gets better and better."
Ice T
THE RAP STAR AND THE STATUESQUE PLAYBOY MODEL
Ice T, 60, and Coco, 39, looked deliriously happy in the photos the model posted on social media.
The rapper/actor wore a jaunty beret and a flamboyant yellow and black shirt, while his wife stole the show in a sensual sheer backless catsuit that hugged every generous curve.
18 YEARS OF WEDDED BLISS AND A SWEET BABY GIRL
Ice T and Coco have been together officially since January 2002, marrying after the model divorced her first husband, Mike Williams. Coco and Ice T share a baby girl they named Chanel Nicole Marrow, who was born in November 2015.
The couple married just two months after they met, and 18 years later are just as passionately in love as ever.
COCO'S TRIBUTE TO ICE T
The blond bombshell is equally in love with her Grammy-winner husband. She posted a heartfelt tribute to her spouse:
"Happy Anniversary to my baby boy! 18 years have come and gone so fast and to think it gets better and better. Thank you for a terrific 2018. You mean so much to me I'm lucky to have you by my side."
A FAMILY REUNION TO RING IN THE NEW YEAR
Joining the celebrants to ring in the New Year were Ice T's daughter, 43-year-old LeTesha, friends Shannon Harley and Seth Rose, and Coco's sister Kristy Austin.
The lovely Kristy smiled widely, and sported purple hair and a figure-hugging silver dress that complemented her sister's silver and black catsuit.
Read more about Ice T on Twitter Amomama USA.
HOW ICE T AND COCO AUSTIN FELL IN LOVE
18 years on, Ice T confessed that what first struck him about the curvaceous model were her teeth.
The rapper, who met the model/ actress during the filming of a friend's music video, revealed what else attracted him to his wife:
"It was her teeth, they were the first things I saw...and then I saw her boobs. And then, when she turned around, that big butt."
Ice T admitted that when he met Coco he had been looking for someone to settle down with.
He was initially attracted to her stunning figure, but as he got to know her he was captivated by her personality.
"I applied the stereotype that everyone does to Coco – that she just wanted to party and have a good time. But she was just an honest and giving woman. She's the nicest person, man or woman, I've ever met."
The couple married just two months after they met, and 18 years later are just as passionately in love as ever.
In a related story, Ice-T and Coco Austin posted adorable photos from their daughter Chanel's 3rd birthday party.
Please fill in your e-mail so we can share with you our top stories!