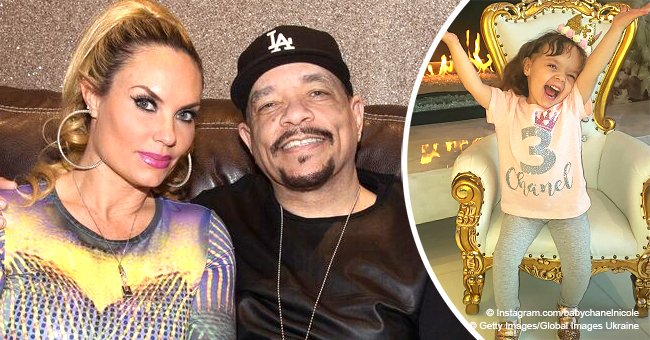 Ice-T & wife Coco melt hearts with adorable photos from daughter Chanel's 3rd birthday party
Actor Ice-T and his wife, Coco, took to Instagram to share photos of their daughter, Chanel, to celebrate her third birthday.
The image that the "Law & Order: SVU" actor uploaded portrayed his daughter as a baby, wearing a colorful onesie while looking directly at the camera. Her beautiful bright eyes were wide open.
In the caption, Ice-T wished the girl a happy birthday, adding that he loved her and that three years went by very quickly. Coco, on the other hand, uploaded a video of Chanel wearing a crown and a pink shirt that read "3 Chanel."
SHARING MORE BIRTHDAY PHOTOS
The toddler appeared sitting on a beautiful throne-like chair by a fireplace while singing "Happy Birthday." For the caption, Coco revealed that she took a picture of her daughter in the same chair a year ago and that she would put them side by side to see the growth.
Coco also uploaded a couple of images to Chanel's Instagram page showing the celebration, too, and the birthday card they sent to her friends and family, which had a "Peppa Pig" theme.
As People reported, Chanel's second birthday had a "Paw Patrol" theme, while the first one had a Minnie Mouse theme. That one took place at Sugar Factory in New York.
MATCHING OUTFITS
Earlier this month, Chanel and Coco made headlines as they went to the DreamWorks Trolls The Experience wearing matching outfits, as usual, and the girl showed off her model pose.
Coco wore Golden high-heels, fuchsia pants, and a matching shirt while Chanel put on golden shoes and fuchsia leggings and shirt. The aspect that attracted more attention to the image was the toddler's exaggerated pose.
Source: Getty Images
DIGGING INTO ICE-T AND COCO'S ROMANTIC LIFE
Despite having children from previous relationships, the "Law & Order: SVU" actor never misses an opportunity to gush over his wife of 16 years.
They met on a movie set where Coco was working, and Ice-T recalls getting blown away by her beauty that first time.
Last year, Ice-T told Howard Stern that "jungle sex" is one of the things that keep things fresh in their marriage. Asked what he meant, the 60-year-old explained: "Just taking it a little bit further, just having a little fun with the buildup."
Nowadays, Ice-T is focused on his career as an actor and a musician as he has been part of the heavy metal band Body Count since 1990.
Please fill in your e-mail so we can share with you our top stories!