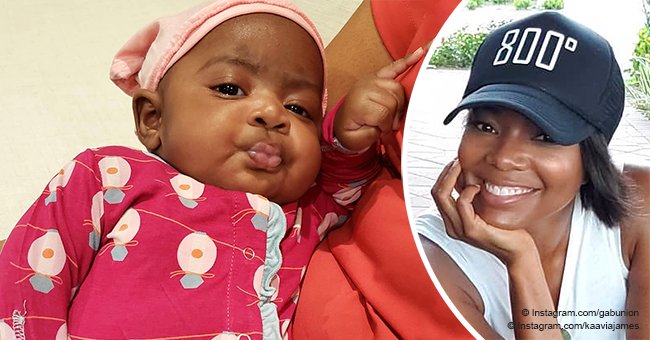 Gabby Union's 'shady baby' Kaavia strikes again with her priceless expression in adorable new pic
New mom Gabrielle Union has a new installment to her "shady baby" series on Instagram. A brand new photo of baby Kaavia features her in another adorable "shady" look.
Gabrielle Union and her baby Kaavia are at it again. The actress just shared a new photo of her 2-month-old portraying another shady expression.
GABRIELLE'S WITTY POSTS OF HER SHADY BABY
Since welcoming her first child with Dwyane Wade, Gabrielle Union has been all about her daughter Kaavia James. Her Instagram posts now show a side of her that fans have never seen before – that of a doting mom.
Gabrielle has quite a sense of humor too when she posts hilarious captions attached to photos of her adorable 2-month-old in the baby's own Instagram page. Kaavia's expressions are total scene stealers prompting her mother to dub her as a "Shady Baby."
The first photo Gabrielle posted of her shady little girl was when she was three weeks old. Kaavia was wearing a black and white headband and had a serious epression on her face. Gabrielle pretended to be Kaavia speaking as she captioned the pic,
"Oh you got me mixed up... You must think I'm one of your little friends?! #ShadyBaby"
The hashtag "#shadybaby" became a recurring theme in several of Gabrielle's succeeding posts. Another interesting photo she shared was in December featuring the baby with a funny expression on her face which she captioned,
"Eeeeeewwww... And then what happened? Gimme alllllll the tea! #ShadyBaby"
More recently, Gabrielle shared a photo on her own Instagram page featuring mother and daughter as an "undercover duo." Gabrielle sported blonde hair while her daughter wore clothes depicting a hoodlum vibe.
HER LATEST SHADY POST
The latest in Gabrielle's "shady" series is a photo of Kaavia with another cute expression on her face. This time she smacks her lips into a pout and curls her fingers leaving her pinky standing. The actress wittingly captioned the pic,
"Ohhhh..thats whatchu gonna go with huh? I've seen better. Thank you, next."
MORE ADORABLE POSTS OF KAAVIA
Gabrielle is clearly enjoying her new role as a mother and sharing glimpses of it to her fans. She's quite a natural too at witty captions, something fans are bound to see more of. We can't wait to see the next installment.
In the meantime, here are more of those "shady" posts to keep you entertained.
Please fill in your e-mail so we can share with you our top stories!