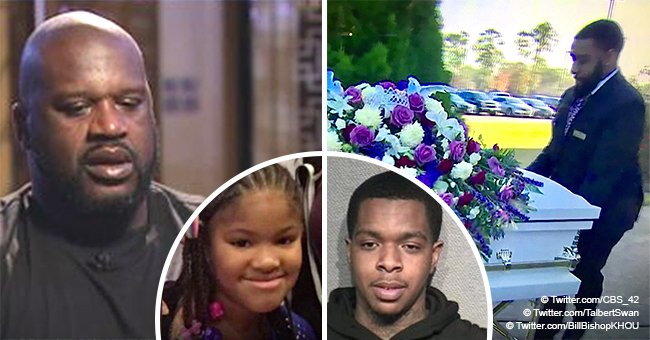 It was the right thing to do,' Shaquille O'Neal helps pay for Jazmine Barnes' funeral
Shaquille O'Neal, the NBA legend, has joined others in the efforts to pay for the funeral of Jazmine Barnes who was killed in a drive-by shooting.
It was recently revealed that good Samaritan, Shaquille O'Neal decided to help cover funeral costs for Jazmine Barnes. The 7-year-old girl was killed in a drive-by shooting.
The four-time NBA champion and 15-time All-Star in his 19-year NBA career is currently working an analyst with Turner Sports. He accompanied Houston Senior Police Officer Kenneth Miles to deliver a cashier's check to Jazmine's family last week.
The check is intended to help the family pay for the funeral. The funeral was scheduled to take place on Tuesday.
@KPRC2Brandon tweeted, "@houstonpolice Officer Kenneth Miles and @SHAQ join forces to cover funeral expenses for 7 year old #JazmineBarnes, the girl shot and killed while riding in a car with her mother and sisters. @kprc2"
Just before 7 a.m. on December, 30, second grader Jazmine was with her mother and three siblings in their car. Someone in another vehicle opened fire on them and shot Jazmine, who was sitting in the back seat, killing her instantly.
Her mother was shot once in the arm and Jazmine's 6-year-old sister sustained injuries caused by shards of broken glass. Jazmine's two older sisters escaped uninjured.
Suspect, Eric Black Jr., 20, was arrested in connection with the incident. He is expected to be charged with capital murder in Jazmine's death.
According to reports, Black told police he drove the vehicle used in the shooting. He also claimed that a man in the passenger seat opened fire. A second person who is already in jail on drug charges is also a suspect in the shooting.
Police say they believe the shooting was a case of mistaken identity. They believe that Black and possibly one or more other people shot at Jazmine's car thinking it belonged to someone else.
"At this time, investigators do not believe Jazmine's family was the intended target of the shooting, and that they were possibly shot as a result of mistaken identity," said police in a statement.
Last week, NFL star DeAndre Hopkins also pledged his playoff check to Barnes' family. He said he hopes to be a "light" for the family in this difficult time.
"When I see Jazmine Barnes' face, I see my own daughter. I'm pledging my playoff check this week to help her family with funeral costs and to support @shaunking @SherriffED_HCSO @SylvesterTurner in bringing this man to justice. On Saturday, I will be playing in your honor, Jazmine." the 26-year-old football player tweeted.
It's not the first time O'Neal has gone out of his way to do a good deed either. Last year,he assisted a family that was involved in a car crash on Thanksgiving.
O'Neal had been on his way to deliver free turkeys at the American Police Hall of Fame & Museum in Titusville, Florida when he and officers from the Broward County Sherrif's Office witnessed a head-on collision between two cars.
They immediately stopped to assist. While the officers controlled the situation, Shaq comforted the victims and their families.
Please fill in your e-mail so we can share with you our top stories!