Getty Images
Glimpse inside the Life of Melania Trump's Older Sister Ines Knauss
Melania Trump's sister, Ines Knauss, may be behind the former US First Lady's impressive fashion style. This is largely because she's also in the fashion industry.
Even if she does not appear publicly with her, Melania Trump is very close to her sister Ines Knauss. The sisters have always been close right from their childhood, and nothing has stopped that.
Melania Trump's big sister, the eldest daughter of Viktor Knauss and Amalija Knauss, has always avoided the spotlight and has let her sister shine through for the family.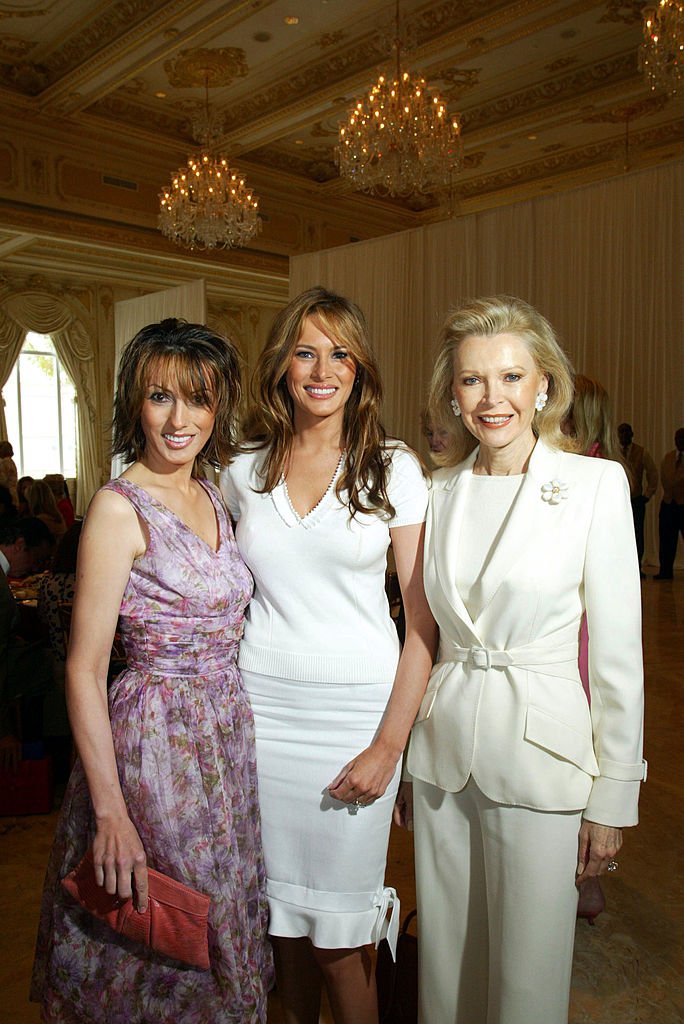 Ines Knauss, Melania Trump, and Audrey Gruss at the Valentino Fashion Luncheon on February 4, 2005 in Palm Beach Florida | Source: Getty Images
As of 2018, Knauss lived in Manhattan, just within her sister's neighborhood, as reported by W Magazine. Melania had shared Ines's sketches on social media, where one of the pieces was called "art of gossip."
Melania resided at the Trump Tower in Midtown Manhattan when she was not in Washington, D.C., at the White House. Her sister reportedly lived at another Trump building nearby.
Knauss, who studied fashion, lived in Milan in the early 1990s. She moved to New York with Melania when the latter signed with Paolo Zampolli's modeling agency.
Knauss reportedly used to give Melania style advice, aside from French-American fashion designer Hervé Pierre. After all, an input or two from her sister won't hurt.
In 2005, at the Trumps' Palm Beach wedding, Knauss was Melania's maid of honor. The sisters are so alike that they both went into fashion, with Knauss focusing on fashion designing.
The sisters attended design school together in Slovenia's capital of Ljubljana before leaving Slovenia to start careers in Milan.
Knauss is also active on social media, where she has shared photos of Trump during her modeling days. She once raised concern over identity theft on social media, posting on Facebook: "It's all good – only wish to know/WHO is posting in my name."
After that, she launched an Instagram account and said she would only share photos of herself and her siblings during their childhood days in Slovenia.
While Knauss seems highly qualified to give style advice to her sister, it was reported that Melania is quite independent when it comes to fashion decisions.
Her spokesperson said: "Mrs. Trump and her sister are very close, but she is not who helps her with styling her wardrobe. At the end of the day, it is Mrs. Trump who decides what she will wear."
Besides sharing throwback images of her family, Knauss also celebrates with the Trumps on her social media pages both in the good times and bad times.
When the Trumps tested positive for COVID-19 in October 2020, she took to social media and shared her well-wishes for them the day after.
MELANIA'S UNPOPULAR FASHION CHOICE
Melania's fashion decision doesn't always impress the public, however. She was once criticized for wearing a $9,000 Dior coat to celebrate Thanksgiving.
Melania had worn the attention-grabbing coat while attending the National Thanksgiving Turkey Presentation at the White House.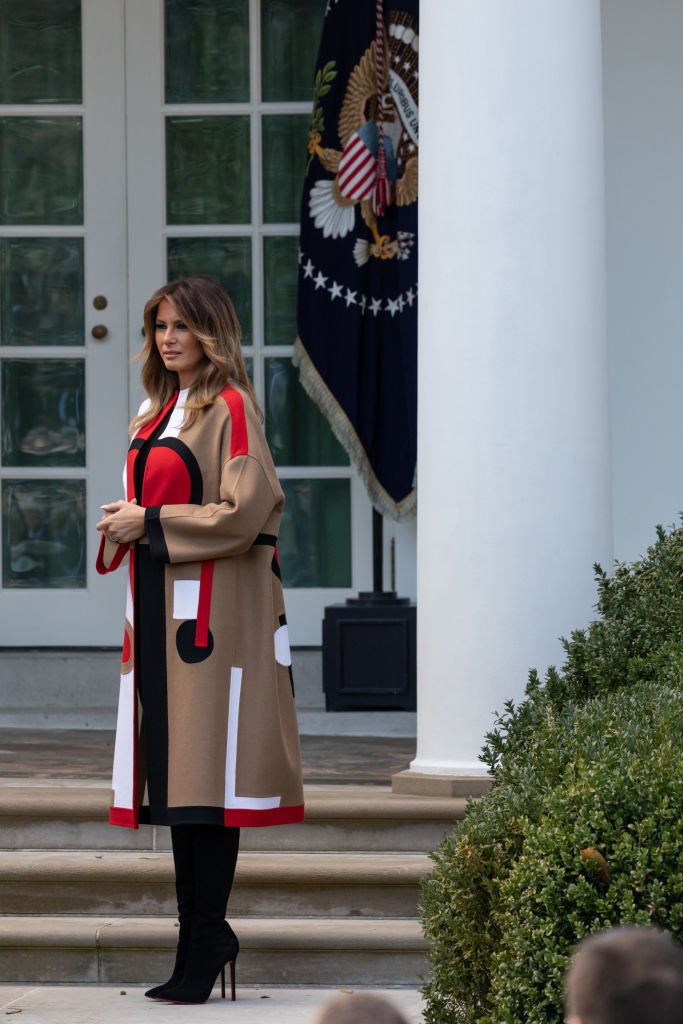 Melania Trump at the National Thanksgiving Turkey pardoning for Peas at the White House in Washington on Tuesday November 20, 2018 | Source: Getty Images
The coat was mostly beige and featured large geometric patterns in red, black, and white colors. Taken from the pre-fall 2018 collection designed by Maria Grazia Chiuri, the coat reportedly costs around $9,000.
To finish off her look, Melania opted for a pair of knee-high Christian Louboutin stiletto boots. She also kept her accessories at a minimum by letting the coat get all the desired attention.
Please fill in your e-mail so we can share with you our top stories!