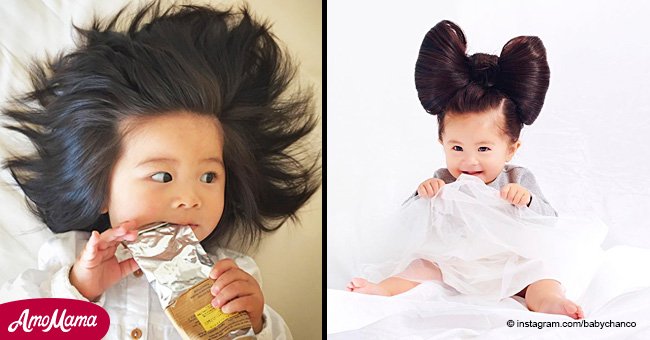 A 1-year-old toddler with an extremely thick head of hair became Pantene star
A baby girl from Japan became the star of a new Pantene commercial because of her impressively thick hair.
On December 23 last year, Chanco turned one year old, but she has already gathered more than 300,000 followers on her Instagram account.
Ever since her mother, Mami Kano, started posting her photographs revealing her full, dark hair, Chanco has become a sort of internet celebrity.
One of the earlier photographs of Chanco posted on Instagram has gathered over 50,000 likes so far.
The baby girl then drew the attention of not just social media users but also the President of Global Hair Care and beauty Sector at P&G, Alex Keith.
As a result, Chanco is now featured in one of the Pantene commercials with her official debut coming a few days ago on January 7.
"I prefer to keep her hair long, and in the future, I want to try some new arrangements, like braids."
The Hair Care Associate Brand Director for P&G Japan, Yoshiaki Okura explained that they approached Chanco's mother straightaway because her personality matched the type of image for women that the brand wants to project.
In the Pantene advertisement, the little girl with uniquely thick and dark hair appeared alongside Japanese television announcer, Sato Kando, who also has a distinctive gray hair which she proudly flaunts.
Featuring these two personalities in the commercial, Pantene is addressing women who "want to be positive and make a new start through their hair," according to Okura.
He added that Chanco's hair represents a "strong power" that would make people want to "positively move forward."
As a part of promoting Chanco's inspirational hair, a digital movie titled "The Hairy Tale" has also been created.
Speaking to People, Chanco's mother also talked about what the future holds for her daughter's hair. Kano said, "I prefer to keep her hair long, and in the future, I want to try some new arrangements, like braids."
Chanco turned into an internet sensation for the first time around the month of July last year when she suddenly started drawing the attention of global media through her Instagram account. At that time, it had amassed more than 100,000 followers.
However, her mother had started posting the snapshots of her unique hair ever since March, when Chanco was only four months old.
Previously, another adorable nine-month-old baby, Lamar Jr., also became an internet sensation after his mother shared a cute, heartwarming photo of him.
Follow us on Twitter for more news.
Please fill in your e-mail so we can share with you our top stories!