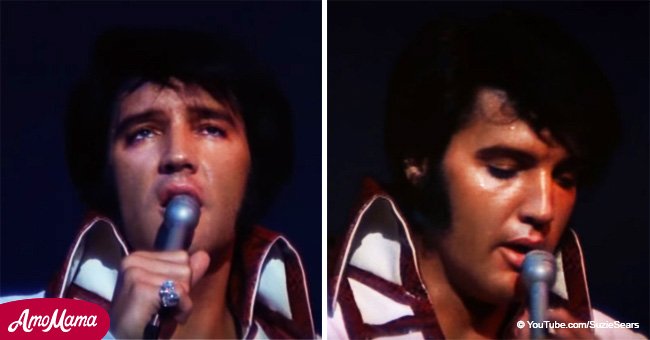 It's always a good day to listen to Elvis' iconic 'In the Ghetto' without any instruments
Elvis Presley's iconic song, "In the Ghetto," is one of his most beautiful songs, but its vocal-only version touches hearts on another level.
There is little doubt that the 1969 classic from the King of Rock and Roll is one of the most beautiful songs to have been composed by the legend.
"In the Ghetto" is considered a special Presley song not only for its emotional appeal but also because it marked a major comeback for the iconic artist when it was released.
As one of his biggest hit, the song landed on the third place on the music charts in the US and peaked at number one in then-West Germany, Ireland, Norway, Australia, and New Zealand.
Over the years, the song has been revived by several artists, who have contributed their own style to the number. But hardly any of those renditions connect with the people on an emotional level like the way the original version from Presley does.
The lyrics of the song definitely touches your heart, but it is also the way in which Presley sings those words that give the song its emotional quality.
This emotional aspect of the song is even more accentuated in the vocals-only, a cappella version of the song, which recently surfaced.
The version does not have any instruments playing in the background, except for the backing track, and features only Presley's deep and soothing voice belting out the lyrics to the iconic song.
Even if one had earlier failed to notice the touching lyrics and emotional story that the song conveys, this a cappella rendition of the song definitely makes those things even more prominent.
The heartfelt tale of a boy born into poverty, who continues to struggle for the rest of his life, feels even more tragic in this version because the audience is compelled to focus only on the words and Presley's voice.
Previously, one of the writers of the famous song, Mac Davis, opened up about what inspired the emotional song.
Davis explained that the song was based on one of his best friends living in a "ghetto," which was a popular term for "the parts of urban areas were poor people were living and couldn't get out."
Just like this rendition of "In the Ghetto," another classic Presley song, "Where No One Stands Alone," was also given a lovable revival in August last year.
The 1967 hit was given an emotional reboot by digitally integrating Presley's daughter, Lisa Marie's vocals into the new version, creating a spectacular father-daughter duet.
Please fill in your e-mail so we can share with you our top stories!