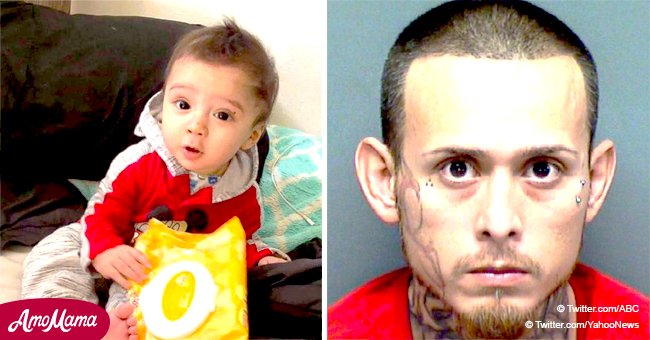 Dad and 3 family members accused of fake kidnapping and death of 8-month-old baby
An infant's father allegedly tried to stage a kidnapping to lead the investigation away from his murder.
Christopher Davila claimed that his 8-month-old baby, King Jay, was kidnapped earlier in the week. But police investigation of the surveillance footage found that the suspect, in this case, was Davila's cousin.
The woman who was earlier believed to have stolen Davila's car, with King Jay inside it, was identified as a member of the family.
The car was later discovered at a park, but there was no sign of King Jay inside it.
San Antonio Police Chief William McManus told ABC that Davila staged a kidnapping to "cover up foul play" with regards to the baby.
The investigation concluded that King Jay has passed away based on the statements from several witnesses.
"We charged [Davila and two other family members] with tampering with evidence because we believe that they participated in staging the kidnapping to hide King Jay's body so we couldn't find it to determine what happened to him."
William McManus, ABC, January 9, 2019
Davila was arrested and charged with endangering a child, while his cousin was arrested and charged with an unrelated offense.
Meanwhile, Davila spoke to KSAT from jail and alleged that the police investigation is not focused in the right direction. He believes that they must concentrate their investigation on where the car was located.
However, Chief McManus stressed that the authorities are more focused on finding King Jay. He also did not respond to the question regarding the possibility the baby is alive, but only confirmed that the entire incident was ruled "foul play."
"We know that there's more people out there that have more information on this case," he informed the public before sending out a warning,
"Even if you are not directly involved in this if you are withholding information, if you have lied to police, we will charge you."
Previously, a father from Utah was also arrested and charged with aggravated homicide and obstruction of justice after he killed his own 10-month-old baby.
The man, Alex Hidalgo, was found sitting on a sofa reading the Bible after he murdered and discarded his baby in the trash.
Read more on our Twitter account @amomama_usa.
Please fill in your e-mail so we can share with you our top stories!