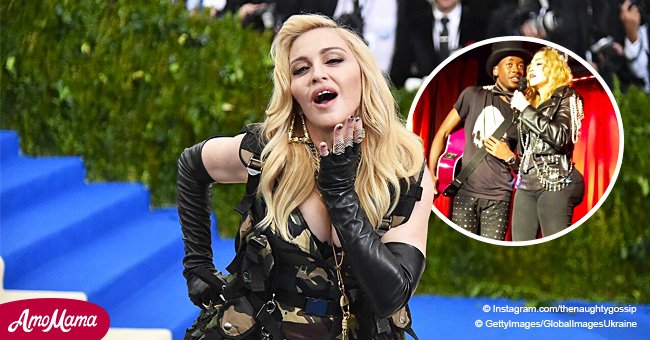 'Did Madonna get a Kardashian implant?' Famous singer hits back at fans' comments
On New Year's Eve, Madonna gave a surprise performance at the Stonewall Inn. However, what most people noticed is that it seems the Queen of Pop has had plastic surgery done to keep up with the Kardashians.
Madonna had recently been made the ambassador of the Stonewall Inn to celebrate its 50th anniversary.
Her short performance consisted of two songs; "Like a Prayer," and "Can't Help Falling in Love." She was accompanied by her son, David Banda.
Read more on our Twitter @amomama_usa.
BUTT WHY?
Her performance was minimalistic and memorable, which delighted her fans who were present. Although people could not help but notice that it seemed like her butt had grown.
This prompted people to wonder if she had had implants done in her rear. Having a big butt is fashionable, and Madonna might have changed her body to suit this trend.
Madonna did not take this speculation lightly and decided to defend herself online. The pop star posted a photograph of herself on Instagram which silenced the opposition. In her caption she said:
"Desperately Seeking No Ones Approval………………. And Entitled to Free Agency Over My Body Like Everyone Else!! Thank you 2019! It's Going to Be an amazing Year!!!"
RUNS IN THE FAMILY
It is not often that Madonna posts pictures on Instagram of her whole family together. That's why Thanksgiving this year was special for her followers because she posted a rare photograph of all six of her children together.
Thanksgiving is a time for Americans to take note of what they are most thankful for. In her caption, Madonna states that for her this is her children. They spent Thanksgiving in Malawi.
They are a blended family that consists of two of Madonna's biological children (one from each of her marriages) and four adopted siblings from Malawi.
FORK FACIAL
Madonna is known for always trying new skincare routines, but one of her latest fads has people wondering if it is even helpful. She has started incorporating forks into her regime.
She posted a video on Instagram showing how her aesthetician, Skillets, uses two long forks to massage her face. Apparently, this process does wonders for tightening the skin.
In the video, she admits that she has both had a facial with a fork and stabbed someone with a fork. This comment had its desired effect of confusing viewers.
Please fill in your e-mail so we can share with you our top stories!