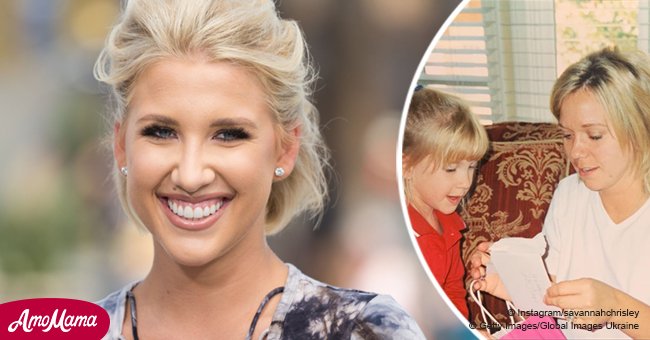 Savannah Chrisley posts a rare throwback photo wishing her 'most amazing mom' a happy birthday

Savannah Christley posts touching tribute to her mother on her birthday.
Julie Chrisley turned 46 on January 9, 2019, and her loving daughter Savannah posted a touching tribute to her mother on her Instagram account.
Fans of the reality show, "Chrisley Knows Best," will be aware of how close mother and daughter are, especially since Julie's bout with breast cancer.
"Happy happy birthday mama!!! I hope you have such a great day! Thank you for being the most amazing mom in the world! You are the sweetest, most loving, most kind-hearted person I know."
Savannah Chrisley
A SWEET THROWBACK PHOTO
Savannah posted a sweet throwback photo of herself and her mother. The photo is obviously from a past birthday when Savannah was a little girl.
In the photo, Savannah can be seen watching eagerly as Julie opens a birthday card, and prepares to unwrap the present on her lap.
Julie has become America's favorite mom since the reality show "Chrisley Knows Best" premiered on USA Network in 2014.
"SUPER MOM" JULIE CHRISLEY IS DAUGHTER'S HERO
In her moving tribute to "super-mom" Savannah openly admits she intends to pattern her life after her mother's:
"I hope that one day I can be half the woman you are. Half the wife you are. And half the mother you are. God was so good to me when He made you my mama. I love you so much."
AMERICA'S FAVORITE MOM
Julie has become America's favorite mom since the reality show "Chrisley Knows Best" premiered on USA Network in 2014.
Julie's calm equanimity in the face of Todd's fiery and sometimes difficult temperament has garnered her universal admiration, as has her strong-minded personality and deep appreciation of life.
Happy Birthday, Julie Chrisley.
Read more about the Chrisleys on Twitter Amomama USA, or follow us on Instagram.
SAVANNAH AND CHASE TO STAR IN SPIN-OFF
America has enjoyed watching the Chrisley children grow up - especially Chase and Savannah.
The Chrisley children are so popular with the fans that the network has decided to give them their own show, "Growing Up Chrisley."
The new spin-off will focus on Chase and Savannah's lives as adults, and they're establishing their independence from their "know-it-all" dad, Todd Chrisley.
The two will be leaving Nashville for Los Angeles in pursuit of their dreams. Chase wants to become an actor and Savannah wants to break into the cosmetics industry.
Of course, the new show will also feature the rest of the Chrisley family and Todd and Julie's adorable granddaughter, Chloe and will premiere sometime in 2019.
In a related story, Todd Chrisley's adorable granddaughter Chloe melts fans' hearts in cute photos.
Please fill in your e-mail so we can share with you our top stories!