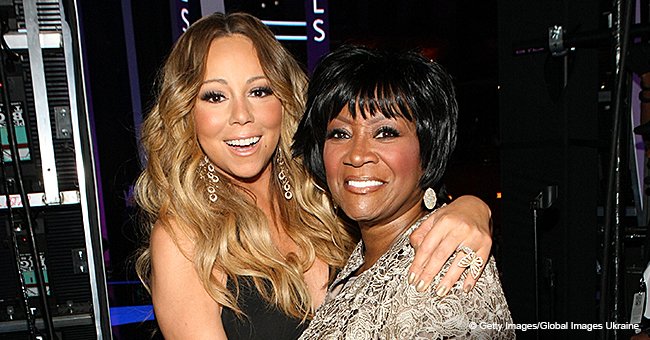 Patti LaBelle reveals she had to 'slap' goddaughter Mariah Carey 'every now and then'
Patti LaBelle opens up about her "ugly" alter ego and showing tough love to her goddaughter Mariah Carey
Patti LaBelle knows a thing or two about tough love. Just ask Mariah Carey who's been slapped by the crooner a few times back in the day.
ON BEING MARIAH'S STRICT MENTOR
LaBelle dropped by "Busy Tonight" and opened up to host Busy Philipps about being a mentor to several name-droppable singers including Beyonce, Mary J. Blige and especially Carey who's her goddaughter. She recalls landing a strict hand on the 48-year-old songbird in the past and not needing to do so today.
"Mariah's my goddaughter. I have to slap her every now and then, but she's so phenomenal and so good, she doesn't need to be slapped anymore. That's my baby."
ON HER ALTER EGO
LaBelle also opened up about her alter ego she fondly calls Priscilla who rears her ugly head from time to time.
"She's ugly. She's [a] very, very bad girl. I don't like her."
LaBelle adds that it's often a balancing act between the two personalities.
"I'm a Gemini, like I told you, and I have all these different personalities. Sometimes I'm so annoyed … when things are not done the way I need to see them, I get a little a little Priscilla-ish. And then I snap out of it. That other Gemini takes over and she says, 'Patti, don't do that.'"
"She's not cute but she's healthy. I'm 74 years young, she's been with me all these years, she's keeping me going."
HER ADVICE FOR SINGERS TODAY
Along the lines of her being a mentor, Philipps asked what her biggest advice is to singers today and La Belle replied,
"I hate saying this but, 'Keep your clothes on."
"That talent will show. You don't have to do this and do that to show that."
AN ADVICE GONE WRONG
LaBelle may have given sound advice to many singers in the past but she drew flak last month when she recalled during Billboard's 13th annual Women in Music Awards the advice she gave Ariana Grande in the past. They were performing for President Obama at the White House when Patti told Grande to "sing like that little White Black girl that you are." LaBelle got quite the beating from netizens after that.
Perhaps it was Priscilla that should have been reprimanded.
Please fill in your e-mail so we can share with you our top stories!