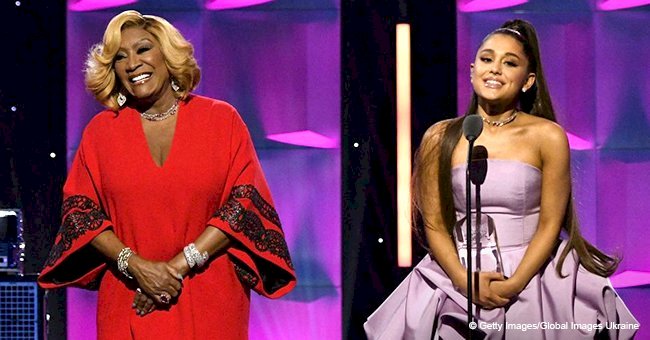 Patti LaBelle sparks outrage after calling Ariana Grande 'a little white Black girl'
Patti LaBelle is a music legend that has won the hearts of fans all over the world, but her recent remarks are generating criticism on the internet.
LaBelle was at the Billboard 13th annual Women In Music Awards where she was scheduled to deliver the "Woman Of The Year" Award to pop sensation, Ariana Grande.
Getty Images
The 25-year-old songstress has had quite the rough year, but LaBelle's remarks didn't sit well with several people.
"I'm thrilled to be among so many wonderful friends to present this year's ultimate honor to Billboard's Woman of the Year. A young woman who has it all," began the 74-year-old on Thursday night.
"She's soulful, strong, and she's just sensational. She's all that and a bag of chips. She's a giant talent who sings from the heart, as I learned when we sang together at the White House for President Obama and Mrs. Obama. She tore it down. Honestly, she can sing her face off."
THE CONTROVERSIAL STATEMENT
The Godmother of Soul added:
"She asked me some questions one time. Remember when we did the President's stuff? And you said, 'Patti, what should I do?' I said sing like that little White Black girl that you are. She got soul like a mug! My son told me not to say that, but it's true."
Grande, probably envisaging the outcome of LaBelle's words was embarrassed and told the older woman: "Your son was probably right."
ANGRY NETIZENS
Negative reactions have been trailing the incident, with netizens taking to Twitter to air their grievances with the "Lady Marmalade" singer.
"The joke that Ariana Grande is a "black queen" is not only disrespectful and tasteless but old and tired," tweeted one user. "She's a talented singer but also incredibly problematic. The fact that Patti Labelle called her a "white black girl" is beyond disappointing. Just call her soulful and cut it."
Another person asked: "Patti Labelle called Ariana Grande a 'white-black girl' nobody gonna check her?"
PREVIOUS ACCUSATIONS
The "Bang Bang" singer has been previously accused of appropriating attributes from other cultures, especially African American. There are claims that the Italian-American beauty uses makeup to appear darker and even takes on black accents on many occasions. Grande did not help her case at the same award ceremony when she said:
"Thank you, guys, so much for coming to my quinceanera."
According to Quinceanera-Boutique, the quinceanera is the "Hispanic tradition of celebrating a young girl's coming of age - her 15th birthday," and Grande's use of the term only strengthened claims that she exploits racial ambiguity.
ROUGH YEAR FOR GRANDE
At the ceremony, however, Grande focused on her experiences in the past year -- a suicide bombing killing 22 people at her Manchester concert, breaking off an engagement, and losing an ex to drug overdose. Despite breaking records with her recent hit, "Thank U, Next," the singer said that the year had been the "worst" of her life.
"As far as like my personal life goes, I really have no idea what the fuck I'm doing. So yeah, it's been a very conflicting one," Grande confessed. "I just want to say that if you're someone out there who has no idea what this next chapter is gonna bring, you're not alone in that."
Please fill in your e-mail so we can share with you our top stories!