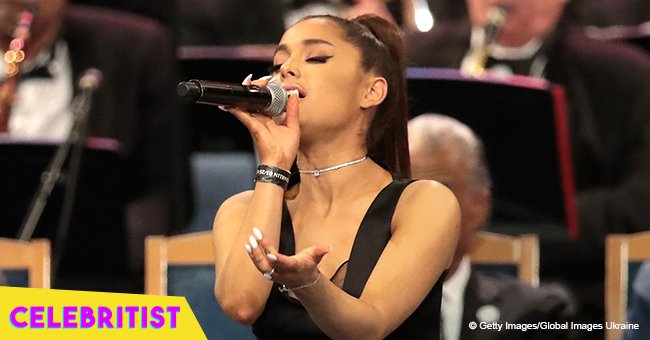 Ariana Grande slammed for showing 'lack of respect' with tiny dress at Aretha Franklin's funeral
Ariana Grande performed Aretha Franklin's hit song "A Natural Woman" during her Detroit funeral, and people have mixed reactions about what had happened during the event.
While she delivered a stellar rendition of the soulful song, it was quickly overshadowed by the controversy sparked by her outfit and how "men were behaving around her."
After the 25-year-old singer, who went to the funeral with her fiance Pete Davidson, donned a daring little black dress to the televised funeral, Twitter had some words to say about it.
Although the internet is all about having women wear whatever they want, they claimed her dress was not appropriate for a funeral.
During the televised occasion, the cameras identified one particular audience member in the crowd who gave her a standing ovation after belting out the 1967 tune.
It was none other than Ariana's former boyfriend and artist, Big Sean. Although they are clearly not together anymore, the pair dated from August 2014 to April 2015.
Her dress was not the only thing controversial about the entire performance, however, as a video surfaced online of the bishop "groping" her breast while speaking with her on-stage.
After the video went viral on the internet, the bishop who officiated the funeral has apologized to Ariana Grande for the physical contact he had with her, and for making fun of her name.
During the event, Bishop Charles H. Ellis III, greeted Grande after she performed on-stage. He held her extremely close, with his right arm around her and his fingers pressed against the side of her breast.
Aside from his "too friendly" contact, he jokingly said that he thought Ariana's name was something off of the Taco Bell menu.
Ellis, the pastor of Detroit's Greater Grace Temple where the ceremony was held, apologized during an interview at the cemetery where Franklin now peacefully rests.
"It would never be my intention to touch any woman's breast. I don't know I guess I put my arm around her. Maybe I crossed the border, maybe I was too friendly or familiar but again, I apologize. I hug all the female artists and the male artists."
While his gesture did not cause a scene during the event itself, it was quickly noticed by people online after a video emerged of Ariana looking uncomfortable with the way he held her.
He also made sure to apologize for the Taco Bell comment, which could have been seen as an insult to the entire Hispanic community.
"I personally and sincerely apologize to Ariana and to her fans and to the whole Hispanic community. When you're doing a program for nine hours you try to keep it lively, you try to insert some jokes here and there."
Now that Grande has been a controversial topic during what was supposed to be a day solely dedicated to honoring Aretha Franklin, people continue to talk about her dress and the alleged sexual assault incident.
Please fill in your e-mail so we can share with you our top stories!