83-year-old grandma tries fast food for the first time and her hilarious reaction goes viral
For most people, the concept of fast food is not a new one, and they can't even remember the first time they tried it. However, one grandmother from Ireland recently tried McDonald's for the first time.
A 22-year-old from Cork, Eva McCarthy, convinced her 83-year-old grandmother, Margaret, to cheat on her healthy and wholesome diet to try food from one of the biggest fast food chains in the world.
Margaret agreed for Eva to film the event and post it on her YouTube channel. The video has gone viral with over 14 000 views.
Read more on our Twitter @amomama_usa.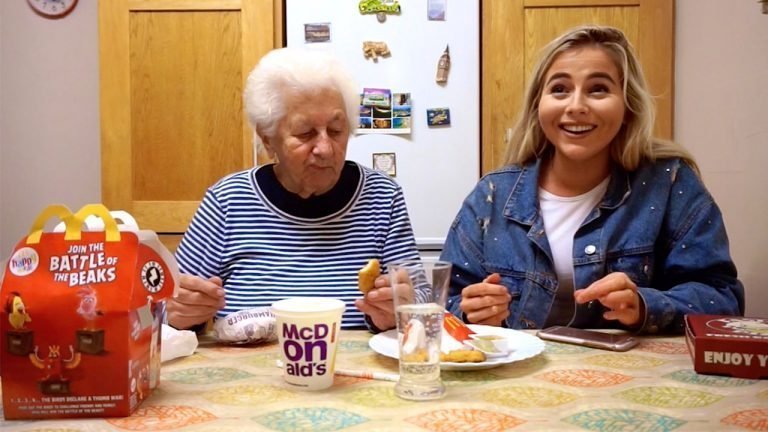 FAST FOOD GRANNY
Margaret's feast from McDonald's consisted of chicken nuggets, sweet and sour dipping sauce, a milkshake, pizza, and a chocolate chip cookie.
She did not enjoy the sweet and sour sauce for her chicken nuggets, but Eva was not surprised by this as she claims that the only sauce her grandmother likes is gravy.
When asked about the experience, Eva said:
"I'd love to do more videos with my grandmother as we both love the time we spend together and making other people laugh!"
FIRST MEETING
This is not the only first-time story worth hearing. Ludacris's wife, Eudoxie, took their daughter, Cadence, to Gabon. This is where Eudoxie was born.
While they were there, Cadence met her maternal great-grandparents for the first time. This was an especially poignant moment for Eudoxie's grandfather, who always wanted her to have children.
Both Ludacris and Eudoxie posted pictures of this particular moment on their Instagram accounts. The posts received many likes and comments from fans who shared when their children met their grandparents for the first time.
POP PRINCESS
In the past few months, videos of babies trying different foods and drinks for the first time have become popular. One such video is of an infant girl called Evie trying soda for the first time.
Her parents give her Coca Cola in a cup with a straw. She sips the soda and within 17 seconds she winces, squits, gags, throws her head back, and takes another sip.