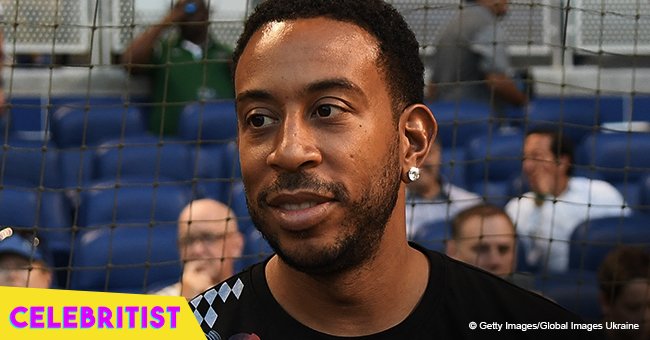 Ludacris melts hearts with photo of daughter meeting wife's grandparents for the 1st time
Eudoxie Mbouguiengue recently went on a trip to her homeland in Gabon and she took her little one along to meet her family. While Ludacris didn't join the girls on the trip, he made sure to keep fans updated about it.
Ludacris and Eudoxie's only daughter, Cadence, celebrated her 3rd birthday in May, and now she went abroad to her mother's natal country to connect with her roots and meet her great-grandparents. The little girl was all smiles as she posed for pics with her mother and grandmother, who looked gorgeous wearing some traditional clothes.
However, it was a special photo with Eudoxie's grandparents that caught the attention of fans when Ludacris took to his Instagram account to share the special moment. "Cadence Meets her Great Grandparents for the First time #africa," he wrote in the caption.
His wife, on the other hand, posted the same picture to her account, and she explained in the caption why the encounter was so special, not only for her daughter but also for her grandfather. She wrote:
"Cadence meets her great-grandparents. This moment has always been a dream of mine and of my grandfather. My grandfather for years used to tell me it was time for me to have a kid because he felt he didn't have much time left with us. I was the last one of his grandkids to have a child."
"It didn't matter how many times I told him I was still in school and that I wanted to wait until my relationship was stable... Grandpa said, "have the baby, bring him here and I'll take care of him until you are stable." He is the best and most loving."
The photo and the caption seem to have resonated with several emotional fans, who took to Eudoxie's comment section to share their own experiences with their kids meeting their grandparents.
Instagram user @mariama7795 wrote a lengthy message saying:
"I know that feeling, that #Pride you're filled with when you're grandparents meet your children. I am the first grandchild from both sides. And my children are the first great-grandchildren from both sides. How #Proud and grateful I was and still is toward God to have let me witness this and let my children knew 3 on their 4 great-grandparents. Enjoy every second of this. #TheAlmighty @eudoxie"
While @loveispure1 was more interested in known Eudoxie's grandparents' secret to eternal youth:
"Wait a minute. Her great-grandparents. The lady sitting down n the guy look more like grandparents not greats. Tell them to send me their secrets to looking young. How old are they?"
Now that Eudoxie and Cadence are back home, the 32-years-old has been missing Gabon, as she expressed on her most recent Instagram posts.
Is clear that her little girl enjoyed her time in the country, and fans love the fact that Eudoxie and Ludacris are allowing their daughter to connect with her African roots from such a young age.
Please fill in your e-mail so we can share with you our top stories!