Parents outraged as kids get Kinder Surprise toy with 'Donald Trump hair and KKK balloons'
When one buys a Kinder Surprise egg, one expects the toy to have to do with a children's movie or television show, but not with politics. Recently purchasers of the candy in Australia got more than they bargained for.
Kimberley, a mother from Australia, bought a Kinder egg for her 15-month-old son, Alexander.
When she opened it for him, she was horrified to see what toy had been included, and she isn't the only one.
Read more on our Twitter @amomama_usa.
Bought myself a Kinder egg (don't judge) and here's what I got. I mean I know you can't get these in the US, but why make kids the target audience of this active measures/disinformation/sharp power campaign? Foul play, KKK! pic.twitter.com/hwy8Tn78Kv

— Anton Tsvetov (@antsvetov) October 21, 2018
INAPPROPRIATE TOY
The toy is of a Kinder character with yellow hair that resembles the style of President Donald Trump and holding three blue balloons each with the letter K on them.
The three balloons together spell KKK, which shocked Kimberly due to its white supremacist implications.
is this a KKK kinder surprise? @kinderus pic.twitter.com/SJzdZjzVNk

— victor Rina Ben david (@china_victor) December 21, 2018
The parent company, Ferrero, apologized for the oversight and any offense that the toy caused their customers. In their statement they said:
"We do not support this organization in any way. The K on the balloons was solely meant to represent Kinder."
My son got this as the toy in a Kinder Surprise chocolate egg!

White pointy shaped character.
Donald Trump hair.
"KKK" balloons.

Make chocolate great again??@colbertlateshow @iamjohnoliver @kindersurprise pic.twitter.com/07HwyHVjIc

— Liz Cameron (@lizjohnson6) November 3, 2018
KAR-DASHIANS
It is so secret that the Kardashians own many vehicles, with Kylie Jenner being one of the biggest car enthusiasts in the family.
Last Christmas she initiated her daughter, Stormi, into the fold by giving her two custom toy Lamborghinis as gifts.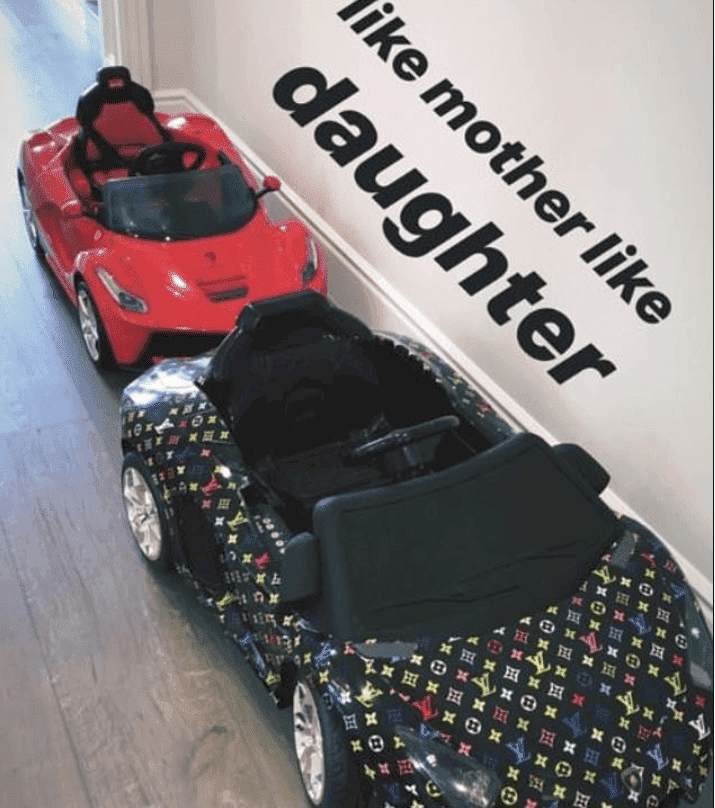 One was red, and one was a multicolored Louis Vuitton car that Stormi can ride around the mansion where she lives.