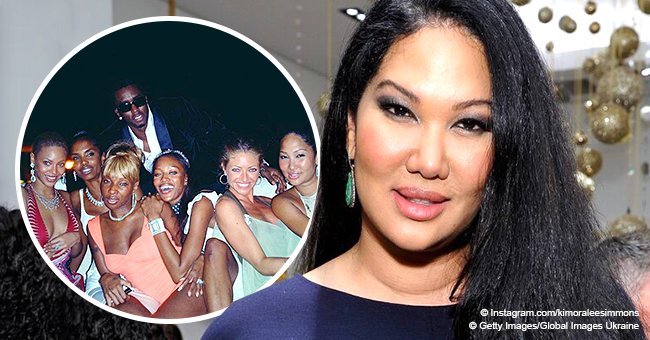 Kimora Lee Simmons shares rare throwback picture with Beyoncé, Mary J. Blige & the late Kim Porter
Kimora Lee Simmons celebrates her friendships as she shares a throwback photo of happier times with the late Kim Porter and other celebrity girlfriends.
It's been two months since Kimora Lee Simmons rushed to her friend Kim Porter's house to confirm that she had passed away. But the heartache remains fresh today.
Kimora unearthed an old photo where she's hanging out with her girlfriends including Kim who was very much alive. Kimora took the moment to celebrate friendships by sharing the throwback pic on her Instagram and lamenting on the loss of her friend.
LEARNING THE NEWS OF KIM'S DEATH
Kimora was one of the first people who went to Kim's home after learning she had died. She first thought the news was a joke so she rushed with her daughter Aoki to Kim's home in Toluca Lake, California to see for herself. Kimora recounted this story in November when she posted a photo of her and Kim as a tribute.
"When I first heard the news, I was angry that someone would play such a stupid ass joke. They said you were in your room sleeping. Aoki and I rushed to your house to tell you to 'get up and come your ass outside!' But soon as i arrived I realized you would not come."
A photo of Kimora crying at Kim's home was later featured in the news. She also revealed in her heartbreaking message she couldn't stop crying since then.
"I cannot stop crying but I will be strong for you."
At the end of her message, she reiterated, "We will never stop crying for you."
AN UNBREAKABLE BOND
Kimora's friendship with Kim goes way back. The model/businesswoman shared that she and her late friend have been together through marriage, divorce, births, and kids. She added that they've become a family sharing eight kids in total who "are all cousins."
The friendly moms are also part of a bigger circle of female friends who were recently featured by Kimora in an Instagram post. She unearthed a photo from a New Year's Eve party where she and Kim were joined by Kim's baby daddy, P. Diddy and several girlfriends including Beyonce, Mary J. Blige, and actress Rebecca Gayheart.
Kim expressed her sadness over the fact that Kim was no longer around writing in her caption,
"Bittersweet that my #kimporter is no longer with us."
But she also used the moment to celebrate her friendships and encourage others to do the same.
"Celebrate your friends, family, relationships, loves while you can, while they're around. Otherwise you may miss out on the chance."
She ended her message by showering her friends with love and good wishes for 2019.
"Everyone in this photo, I love you!! Happy bright new fabulous 2019 everyone! Sending love and light to all! Here's to new beginnings and old friends!"
A DIFFERENT KIND OF NEW YEAR'S BASH
While Kimora has been wishing for good vibes, Kimora's year wasn't off to a very good start. Her family was recently in the news after fans bashed them on Instagram. Her daughter Ming shared a photo of them inside a car which was used by one commenter as a basis for saying,
"neither one of them are cute to me but hey…here's a nickel for having an opinion."
Kimora's daughter Aoki took offense and responded with a classy clapback.
Regardless of the negativity coming her way, Kimora can rely on the positive vibes brought about by the love she gets from her family.
Please fill in your e-mail so we can share with you our top stories!