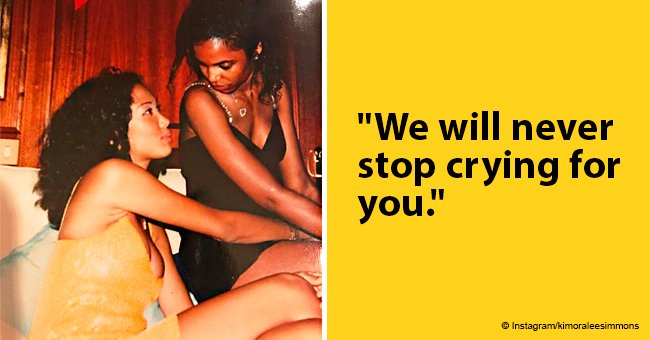 Kimora Lee Simmons pays tribute to her friend Kim Porter in heartbreaking post
Kimora Lee Simmons made sure to post a heartbreaking tribute for her best friend Kim Porter on Instagram, who tragically passed away at 47-years-old.
Kim Porter's family and friends were shocked to find out of her passing recently, and Kimora Lee Simmons was spotted crying outside the home where she was found unconscious. After finding out about her best friend's sudden and shocking death, Kim was last seen crying outside her friend's home, waiting for a coroner to carry her lifeless body away.
The two were extremely close friends, with Kim even serving as a bridesmaid at the designer's wedding with Russell Simmons. Of course, after garnering enough strength to pay tribute to one of her closest girlfriends, she took to Instagram to share her fondest moments with Porter.
In her post, she shared a montage of the both of them, dating back decades. As for her message to her dear friend, it is clear that Kimora is still in shock, hoping that this was all just one big joke. However, after realizing that it wasn't and that they actually had to say goodbye, she was frozen in shock.
"I cannot stop crying but I will be strong for you. Gone WAY too soon. Wtf. I am in shock. To my beautiful friend and sister, I love you."
Kim passed away on November 15, in her Los Angeles home. According to TMZ, it was around noontime that 911 was called to respond to the Toluca Lake House where she lived, and it was reported that she suffered from cardiac arrest. However, the publication also reported that she had been suffering from pneumonia prior to her cardiac arrest.
"This is unbelievable. When I first heard the news, I was angry that someone would play such a stupid [expletive] joke. They said you were in your room sleeping. Aoki and I rushed to your house to tell you to 'get up and come your ass outside!' But soon as i arrived I realized you would not come."
Kim left behind three children whom she shares with her ex, Diddy, who are all equally devastated about her death, especially since the two have kept a close bond and have done stellar jobs at co-parenting their kids.
"You are a great mama. Between us we have 8 kids who are all cousins. We are, and will always be-a family. I will look after yours and you will look after and guide us all. What a beautiful, loving, sassy soul to have lost. We love you forever. May God bless your journey. We will never stop crying for you"
Kimora made sure to let her friend know that they are family and that she was going to look after her children from now on, just like they always did. For now, they will all mourn the loss of such a wonderful person together, and the rest of the world will most definitely pray with them.
Rest In Peace, Kim Porter.
Please fill in your e-mail so we can share with you our top stories!