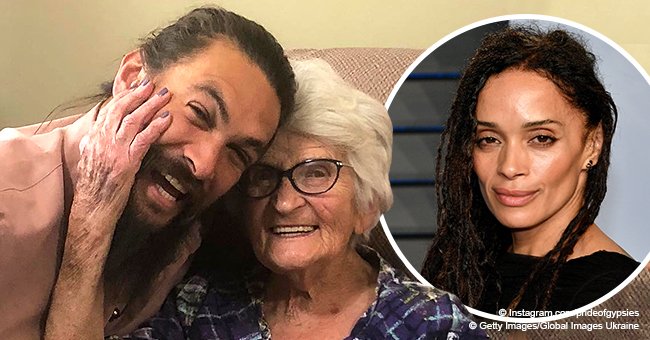 Lisa Bonet's husband Jason Momoa steals hearts with photo of grandma who's 'still got her spirit'
Jason Momoa reveals his soft spot for his family and his grandmother during his heavily documented visit back to his hometown in Iowa.
Fresh from the success of his superhero venture as "Aquaman," Jason Momoa traveled back to his home in Iowa to surprise his grandmother and shower her with love.
LOVE FOR HIS GRANDMOTHER
The 39-year-old shared photos from his sweet visit with his grandmother Mabel and gone was the fierce warrior from his roles in "Game of Thrones" and "Aquaman." Instead, a doting grandson with a big smile on his face stares back at his Instagram followers as his beaming grandmother lays her hand on his cheek. Jason leaned his head against his grandma's revealing the strong bond they share.
In a second photo, he appears to be spending some quality time with her looking out into the window with their backs turned to the camera. Jason is seated next to his grandmother who sits on her wheelchair.
"Needed to come home to Iowa and give my grams some aloha Love u forever grandma," the celebrated actor captioned the slideshow.
He added the hashtags #Mabel#thematriarch #raisedbywomen #loveuma#hawaiianiowanand even threw in a joke.
"HAWAII backwards is IIAWAH. IOWA [laughing emoji Aloha j"
LOVE FOR HIS FAMILY
Jason's visit also included a family gathering outside a diner. Along with his parents, cousins and other relatives, he posed outside the Waveland Café where they had dinner. The actor even thanked the restaurant's crew "for always taking care of me" and acknowledged that he "finally made it" and signed on their wall.
Jason also expressed his pride for his family.
"My beautiful IOWA ohana. Love u so much so proud of my cousins. My nieces and nephews are amazing love u babies. Aloha unko aquaman."
HOMETOWN VISIT ON VIDEO
Jason's visit was fully documented in a video he shared on YouTube. The 10-minute film titled "Visited my home state Iowa" featured his friendly gatherings, his dinner dates, and even a trip down memory lane to his old high school. The highlight, of course, was his visit to his grandmother.
"I came home to see my grandma. She's still got it. She's still got her spirit. It was awesome seeing her and seeing my whole family on my mom's side," he said on the clip.
Jason conclude the clip by saying,
"It's crazy because you go from Hawaii, where I was raised — but this is where I was raised. These cornfields. This is America, and it feels like home to me. Well, it is home."
HOME WITH HIS WIFE AND KIDS
Home for Jason today is also where his wife, Lisa Bonet and their children live. He and Lisa have made quite an impression as a couple since they forged a relationship in 2005. They met at a bar, describing it as being at the right place at the right time and it was pretty special for Jason who harbored a crush on Lisa since he was 8 and she was 20.
Today, the couple who married in October 2017 share two children, 11-year-old daughter Lola and 9-year-old son Nakoa-Wolf. Lisa is also a mother to actress Zoe Kravitz, her daughter with her first husband, Lenny Kravitz. Jason and Zoe are close and he also has a friendly relationship with her father. He even gifted Lenny with a ring to match his.
All's well in the world of this endearing family man.
Please fill in your e-mail so we can share with you our top stories!