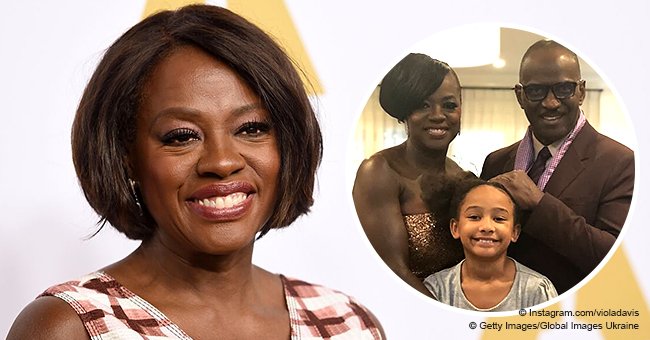 Viola Davis stuns in golden dress in family pic with 8-year-old daughter and husband Julius Tennon
Viola Davis, the actress and producer best known for films and TV shows such as "Doubt" and "How to Get Away with Murder," took to Instagram to share a photo with her family.
In the image, Viola appeared wearing a stunning one-shoulder golden dress and rocking a beautiful hairdo while hugging her only daughter, Genesis Tennon, who was smiling between the actress and her husband, Julius Tennon.
The girl was wearing a grey shirt while the man chose an elegant suit and tie. For the caption, Viola wrote, "Here we go" followed by a black heat emoji.
PEOPLE'S REACTION
As soon as the actress uploaded that image, her followers took to the comment section to share their thoughts.
"Awww what a beautiful family. And you look stunning, V!!" wrote one follower.
"Beautiful Family!!!! Viola looks so good!!!! Refreshed and Rejuvenated! Keep up the good work!" admitted a second user.
The couple took that photo just minutes away from heading to the Critics' Choice Awards. Even though Viola has won five of those awards in the past already, she got another nomination this year for "Widows."
VIOLA'S FAMILY
The actress has been married to Julius, 65, since 2003. After being together for a while, they decided to adopt Genesis, who joined their family in 2011. Apart from that, Viola is the stepmother of Julius' two children he had during a previous marriage.
Even though Genesis is not the actress' biological daughter, she has been developing passion and love for the entertainment industry. Whenever a camera is around, the girl strikes a pose and flashes her smile in the most adorable way, possibly following in her mother's footsteps.
GENESIS' PERSONALITY
During an interview Viola was in with Ellen DeGeneres back in 2013, she revealed that the "acting bug" had already bitten Genesis. Even at the age of three, the girl would often say set cues like "action" and even "get lost" in her creative mind with imaginary friends.
For Halloween 2015, she refused to dress as Elsa from "Frozen." Instead, Genesis opted for wearing a white dress and holding a fake award, mimicking Viola's outfit when she won the Emmy for "How to Get Away with Murder."
REGRETTING A ROLE
Last year, Viola revealed that she regretted being part of the Oscar-nominated film "The Help" during an interview she had with the New York Times. She set clear, however, that it had nothing to do with the cast as she had a great experience and made some friends that she will have for the rest of her life.
Viola's regret was the story itself as she considered that it didn't do justice to how the maids felt. Given the fact that the film was supposed to address racist aspects of the era, Viola considered that the maids' voices were not heard.
Please fill in your e-mail so we can share with you our top stories!