Tourist spotted walking his female companion along street on a dog lead in Colombia
A surprised driver filmed a couple of tourists in the Caribbean city of Cartagena, Colombia, walking along the sidewalk as the man casually led the woman with a dog leash around her neck.
The video shows the couple walking along San Martin Avenue, a crowded area on the port city of Cartagena, while the man casually leads the woman with a silver chain around her neck.
The woman seems unbothered by the situation, looking around the shops and the cars passing by with an unperturbed look on her face.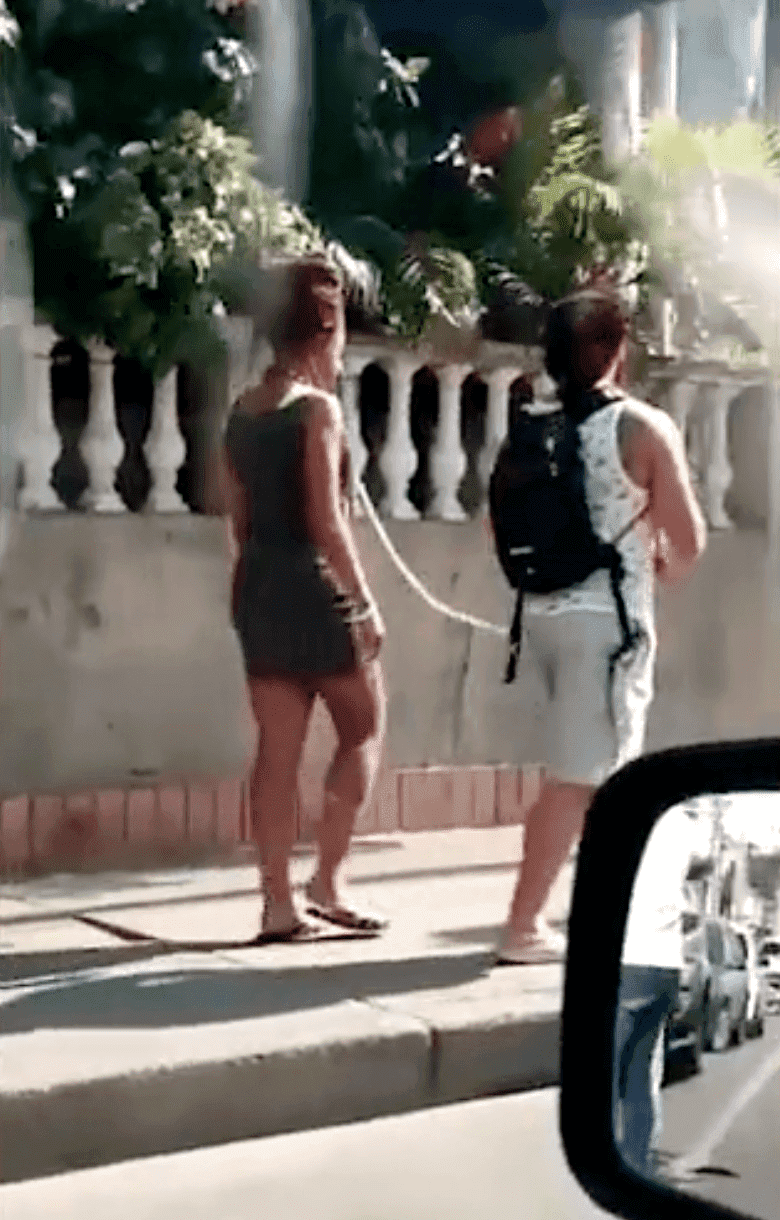 The man was walking with a beer in his hand, wearing shorts and a backpack, as he kept a firm grasp on the dog chain.
It's clear that the person recording the video was impressed and amused by what they saw as they slowly drove next to the couple, zooming in on the woman, her neck and the leash, before driving faster as the couple approached an intersection.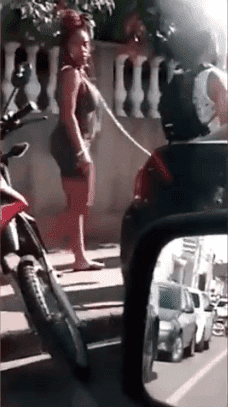 Even with people around them looking confused about the couple's antics, the tourists who were allegedly from the U.S go on with their stroll without missing a beat.
Resident Gian Filgueno said to Heraldo:
"Many tourists come here with their way of doing things, we have seen couples of the same sex, people completely covered in tattoos and perforations, but this really did shock us. The guy had the woman on the end of a lead like an animal, and she seemed okay with it."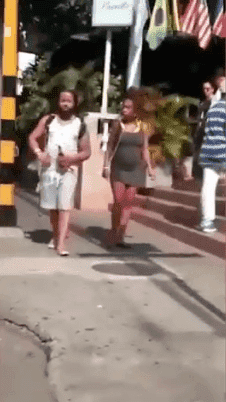 For many other locals, the incident leaves the woman in a bad spot, humiliated and reduced to a "thing." The couple remains unidentified.
MAN GOES TO PRISON FOR WALKING HIS WIFE ON A LEASH
While the couple walking around Cartagena got away with their weird act, last year a 66-year-old man from Maryland was arrested after he yanked a leash on his wife's neck while they walked around the York Fair in Pennsylvania.
According to witnesses, William Wolford had an 8-foot-long dog-style leash tied to his wife's neck, and when he pulled on it, his wife's head snapped back, leaving red marks on her neck.
Maryland man arrested at York Fair for allegedly choking his wife with dog leash https://t.co/OSnIsVuVKz pic.twitter.com/tM3uhZuaOA

— WPMT FOX43 (@fox43) September 18, 2018
The man told police officers that his wife, Catherine Wolford, has advanced-stage dementia and he initially tied the leash to her waist as a way of not losing her. He said at some point she must have moved the cord to her neck.
Wolford's son testified in his father's favor, saying he's not abusive and agreeing with his statement. The man was charged with simple assault and released on $5,000 unsecured bail.