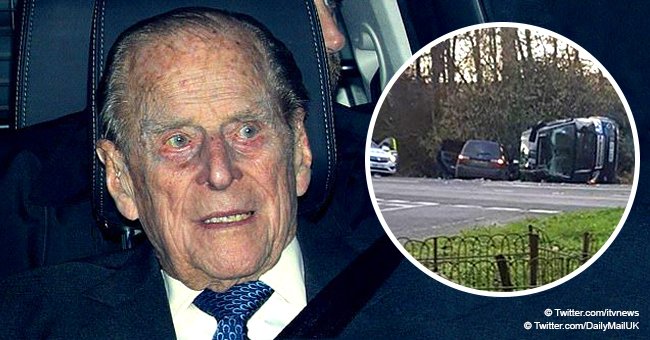 Meghan Markle's royal grandfather-in-law Prince Philip, 97, involved in car crash
Prince Philip's SUV crashes into another vehicle carrying two women and a baby due to blinding light.
Queen Elizabeth's husband, Prince Philip figured in a car accident which left him in shock but unharmed.
The 97-year-old Duke of Edinburgh was driving his Land Rover onto the A149 near his family's Sandringham Estate in Norfolk when he was blinded by the sun and crashed into a Kia carrying two women and a baby.
The accident occurred at around 3 pm on Thursday with the Duke described by witnesses as "very shocked and shaken" after his vehicle overturned due to the collision.
Roy Warne, a barrister who first spotted the accident rushed to pull out the Duke who was shouting "My legs! Where should I put my legs?"
He later told The Sun,
"I looked down and had the Prince's blood on my hands. All I could think is, thank goodness there wasn't more."
Warne also rushed to the other car which had smoke coming out with a baby in the back seat screaming. The two women were reportedly injured and were rushed to the hospital after for treatment. One of them was suspected to have a broken arm while the other, an injured knee. The baby was unharmed.
Prince Philip was also cleared of any injuries after a doctor saw him at his Sandringham estate. However, he will be closely monitored for the next 48 hours to rule out any internal bleeding. His bodyguard was also reportedly uninjured.
The Duke and the woman driver was subjected to a breathalyzer test as a standard procedure and results turned out negative though the sight of the crash is believed to be notorious for accidents.
SHOULD THE DUKE BE DRIVING AT HIS AGE?
Following the crash that endangered the life of the Duke, many are questioning why he's still driving in his age. Royal historian Kate Williams says the Duke "loves driving" and "were he not allowed to drive he would find that quite painful."
There is no legal age to stop driving in Britain though people over 70 are required to renew their license every three years. The Duke of Edinburgh has a valid license.
NOT HIS FIRST CAR ACCIDENT
This is not the first time Queen Elizabeth's spouse was in a car accident. 23 years ago, he also crashed his Mercedes into a motorist just 30 miles from where his recent collision took place. That being said, it's likely that the Queen will have something to say this time about his driving.
Witnesses of his latest car crash were surprised he came out of it uninjured. Judging from the scene, it's a miracle he's alive they say.
WHEN HE DROVE A MONTH AFTER SURGERY
In May, Philip surprised his wife when he showed up at Balmoral driving his Land Rover just a month after his hip replacement surgery. The Duke was smiling, clearly glad to be behind the wheel again during the annual Royal Windsor Horse Show. In the past, he would also participate in the event driving a carriage, which is another of his pastimes after giving up polo in the 70's.
Please fill in your e-mail so we can share with you our top stories!