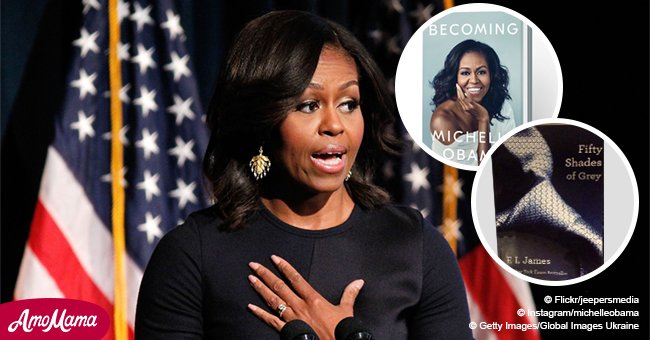 Michelle Obama's 'Becoming' book is now as popular as a BDSM erotic novel and many more
Finally, someone defeated "50 Shades of Gray". "Becoming" by Michelle Obama is one of the most successful books of the decade since for more than 40 consecutive days it has been the best-selling title on Amazon.
"Becoming", the autobiography that former US First Lady Michelle Obama published last November, quickly became the 2018 bestseller in the United States, and has now broken the record set, in 2012, by EL James's book, "Fifty Shades of Gray".
Multiple press reports indicated that during the first days that the book of former first lady Michelle Obama "Becoming" has been available, she broke record sales by selling 1.4 million copies.
Only in the United States, two million copies were shipped in the first two weeks, and high sales in Europe ranked it in first place in countries like Spain, United Kingdom, Germany, France, Italy, Holland, Denmark, Norway, Finland, and Greece.
As Daily Mail points out, since 1995 -when Amazon began keeping track of its sales- only six other books managed to stay on the podium longer than Obama's.
Four of them are part of the saga created by JK Rowling: "Harry Potter and the Goblet of Fire" (2000), "Harry Potter and the Order of the Phoenix" (2003), "Harry Potter and the Half-Blood Prince" (2005) and "Harry Potter and the relics of death" (2007).
The other titles that also broke records of permanence in number one are "The Da Vinci Code" (2003), by Dan Brown; and "A New Earth: An Awakening to the Purpose of his Life", published by Eckhart Tolle, in 2005, but which achieved the podium in 2008, after Oprah Winfrey publicized it.
The past memoirs written by other former First Ladies had substantial sales, but not as high as Obama's memoir's sales. Hillary Clinton published her memoir, "Living History," in 2003 and it sold only 600,000 copies in its first week.
Book analysts and critics have been saying positive things about "Becoming." The Washington Post praised its "impressive balance in telling the truth of her challenges while repeatedly acknowledging her lucky life."
Please fill in your e-mail so we can share with you our top stories!