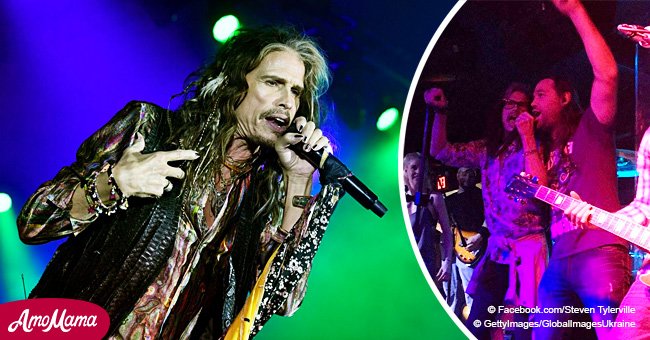 Video of Steven Tyler joining a bar band for impromptu performance proves why he is a rock star
Steven Tyler surprised the customers at a New Orleans bar by delivering an impromptu performance along with a local band.
According to TMZ, the iconic Aerosmith frontman was casually strolling down the Bourbon Street in New Orleans when he happened to pass by Famous Door, one of its popular bars.
When someone noticed him on the street, they informed the bar patron. He then informed the members of the band, who were playing in the house that night.
As soon as they got a heads-up, a guitarist for the band quickly ran out on the street and invited Tyler inside.
When Tyler entered the bar, the band started hitting an all too familiar riff to "Walk This Way." Before long, Tyler joined the rest of the band members on the stage for an incredible performance.
Needless to say, the band members absolutely enjoyed performing with the legendary rock star, and the crowd went just as crazy as Tyler belted out the lyrics to the song.
The band members were looking forward to a normal gig but they chanced upon sharing the stage with one of the biggest names in the music industry.
It was definitely one of the most memorable nights in the lives of people visiting Famous Door.
Tyler's impromptu jam session with the local band was caught on camera and has also been enjoyed by many of his fans all over the world.
So far, the video has gathered over 100,000 views and hundreds of likes as well as comments.
One YouTube user, named Patti McClain, deemed Tyler a "true rocker and just a good guy" for his humble acceptance of the band's invitation. "That's why I love him," the user wrote.

Source: YouTube/TMZ
Another user called him "an awesome person" arguing that most rock stars would not even consider such invitations.
Tyler has always impressed with his casual and candid attitude while making public appearances or during his interviews.
In November last year, he made headlines with a candid interview with TMZ, in which he admitted to acquiring the license of an ordained minister and marrying his son to a beautiful girl.
Upon being asked about how he got ordained, Tyler replied that he simply went online and paid "80 bucks" to become ordained.
Please fill in your e-mail so we can share with you our top stories!