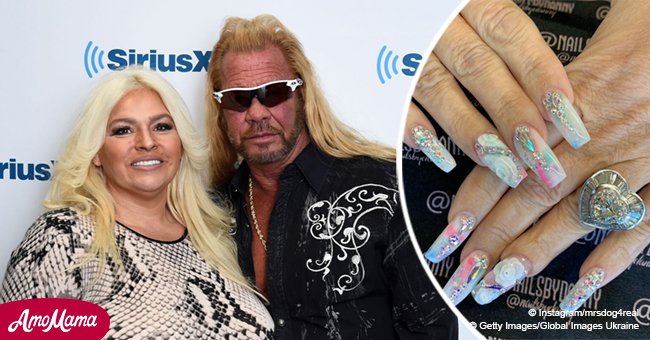 'Dog the Bounty Hunter' star Beth Chapman shares a new photo amid ongoing battle with cancer
Beth Chapman's shares her brave fight against her cancer with her fans.
Beth Chapman is facing the return of her cancer with her characteristic courage.
With the unwavering support of her husband, reality star Duane "Dog the Bounty Hunter" Chapman, she has been staying positive and sharing details of her daily life with fans on Instagram.
DREADED NEWS FROM THE HOSPITAL
Beth had been diagnosed with cancer in September 2017, and the family had believed she had beaten the dread disease.
In November 2018, Beth hospitalized again, and the news was shattering: The cancer was back.
The couple has been doing their best to continue with their normal life, and are about to start filming a new reality TV series.
TAKING JOY IN HER LIFE
But Beth is not a woman to take such news lying down. She is home from the hospital and embracing life with her usual verve. She posted a photo of her nails done artistically with extra bling by her favorite manicurist.
PLANNING HER OWN FUNERAL
To her husband's distress, Beth has calmly been talking about what she wants for her funeral:
"She's like, 'Here's the casket I want, and here's the flowers.' I said, 'Beth, don't say that.' And she said, 'What? You don't want me planning my funeral? Well, I'm going to.'"
Beth is looking into alternative treatments and chemotherapy, but she insists in facing facts, and the possibility of her own death.
ASKING FANS FOR PRAYERS
The Chapmans have appealed to their millions of fans to pray for Beth, and for strength to fight for her life. As Duane explains:
"She's still trying to cook and get involved in my bounties and business. She's still trying to do everything."
The couple has been doing their best to continue with their normal life, and are about to start filming a new reality TV series.
DUANE AND BETH ARE BACK ON TV
Duane "Dog The Bounty Hunter" Chapman's fans will be thrilled to know that he and Beth will be back on TV soon accompanied by their famous team, the Dirty Dozen.
The show will be called "Dog's Most Wanted" and will follow the Chapmans and the Dirty Dozen as they hunt fugitives from the "most wanted" lists of the FBI, and the U.S. Marshals. This is the Chapman's return since the end of their original show which aired from 2004 to 2012.
The new show will comprise 10 episodes, and it will involve Beth and her health issues as well as the criminals Duane will be hunting.
In a related story, fans of the Chapmans are anxiously awaiting the unveiling of what Beth teased is "the greatest Christmas present ever."
Please fill in your e-mail so we can share with you our top stories!