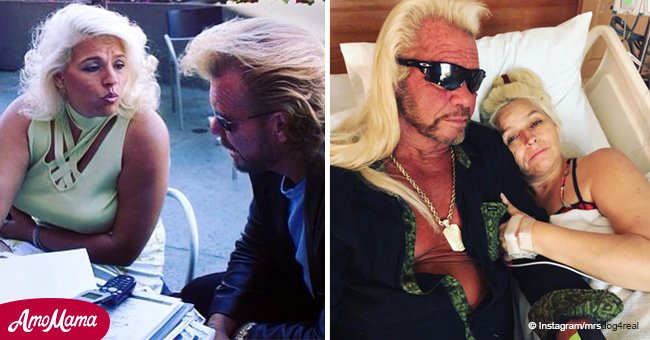 Beth Chapman fans frozen with suspense at her post about 'greatest Christmas present ever'
Fans of the Chapmans are anxiously awaiting the unveiling of what Beth teased is "the greatest Christmas present ever."
Since Beth Chapman revealed that her cancer was back in November 2018, fans of the reality star and her husband Duane "Dog" Chapman have been praying for a miracle.
Beth shared a cryptic message on Twitter tagged for her husband, and his children Leland and Cecily Chapman announcing the "greatest Christmas present ever."
"#DogPound you guys are getting the greatest #Christmas present ever ...wait for it @DogBountyHunter @LelandBChapman @icEciLy."
WHAT IS THE "GREATEST CHRISTMAS PRESENT EVER"?
Fans have been speculating that Beth was alluding to some good news about her health, or perhaps getting ready to announce the family's return to reality TV.
When the 51-year-old was first diagnosed with stage II throat cancer in September 2017, the couple did an A&E special, "Dog and Beth: Fight of Their Lives" which focused on Beth's 13-hour surgery to remove a cancerous tumor from her throat. Is a new special in the works?
"Dog" confessed that he is leaning on his faith in God to help him through this dark moment in his life.
BETH'S CANCER IS BACK AND IT HAS SPREAD
When Beth was rushed into emergency surgery to remove a "blockage" in her throat in November, her family and friends were shocked to discover that the mass was cancerous. "Dog" later confirmed that Beth's cancer has spread from her throat and into her lungs and is deemed "incurable."
BETH IS FIGHTING THE GOOD FIGHT
"Dog" has revealed that for Beth life is "business as usual" since her recent diagnosis. The reality star is cooking and "interfering" in "dog's" business he jokingly confided:
"She's still trying to cook and get involved in my bounties and business. (...) Beth is the kind of girl who likes control. She's trying to still advise me on my work, and I'm like, 'Honey, I was the Dog the Bounty Hunter before I met you. Stay out of it!'"
BETH IS FACING CHEMOTHERAPY FOR HER CANCER
Andrew Brettler, the Chapman family's attorney confirmed that Beth will need to undergo chemotherapy to fight her cancer, but did not confirm rumors that she was planning her own funeral.
"Dog" revealed that Beth has refused prescription pain medication, and will only use over-the-counter painkillers, even though doctors warned her that she might have seizures if the pain was extreme.
"Dog" confessed that he is leaning on his faith in God to help him through this dark moment in his life, as He has in so many others:
"I'm a sinner. I pray a lot. I have done double that. I constantly ask God to heal my honey and make sure He takes care of it."
Is Beth's "greatest Christmas present ever" the answer to "Dog's" prayers? We join him in asking for a special Christmas miracle for this gutsy lady.
KEEPING THOSE CHRISTMAS TRADITIONS DESPITE THE CANCER
Beth Chapman may be fighting cancer once again, but the feisty blonde hasn't stopped living her life to the full.
After the emergency November 26 surgery to remove a cancerous mass in her throat, Beth insisted on flying home to Colorado, despite the doctors' advice that she should remain in hospital.
Beth has made it clear that she wants to be with her family for Christmas, and she is making sure every last tradition is kept.
She posted a photo of the family celebrating in their time-honored tradition, a visit to the theater and dinner at their favorite restaurant:
"Family Tradition, Theater with the kids for Christmas .. And Churchill's for dinner."
Beth will be undergoing chemotherapy, and fans are hoping for some good news for Christmas.
In a related story, Beth Chapman glows at her stepson's birthday celebration amid her battle with throat cancer.
Please fill in your e-mail so we can share with you our top stories!