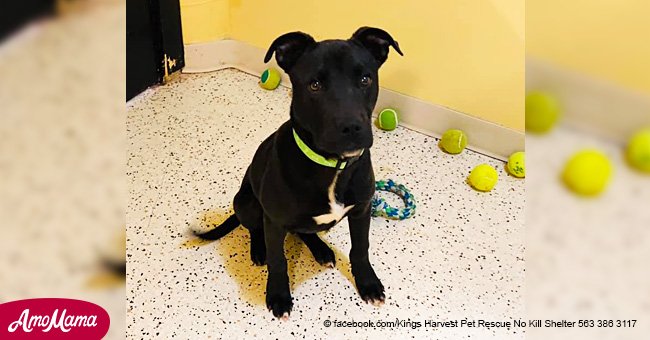 Abandoned puppy miraculously wakes up after vet euthanizes him and is given a 2nd chance
A euthanized dog survived miraculously and is now looking for a new family who might help him have a second shot at life.
A pup named Rudolph was dropped at a shelter which was already full with pets, which led the vet to euthanize the 7 to 8-month-old pooch, as per a Facebook post from Kings Harvest Pet Rescue.
Surprisingly, the pup pulled off a miracle by waking up, and the vet was finally convinced that he should not make an attempt to end the puppy's life for a second time.
Rudolph was then brought to Kings Harvest Pet Rescue in Davenport, Iowa, where he began his second life.
The rescue facility, which is a "No Kill Shelter" as per its official Facebook page, shared Rudolph's story in the hope of finding some family who would be willing to adopt him.
The shelter's post has so far been shared more than 2,000 times and has received as many reactions so far.
"So we brought him to our shelter in hopes somebody would come adopt him and give him a second chance at life. If you're interested in this adorable young [man,] stop by and meet him we're open 10 to 5 every day except Sundays and Thursdays," Kings Harvest wrote on Facebook.
Meanwhile, Daily Mail reported that the exact reason for Rudolph's survival from getting euthanized is not known, but it might have been 'an improper dose of the lethal drug.'
Since posting Rudolph's story, several social media users have openly expressed their desire to adopt the miraculous dog.
Jacob Hommer wrote in the comments section that a combat veteran friend of his was 'moved' by the story and would love to give Rudolph 'a shot at a second life.'
Others also took time to remind everyone that they should consider adopting other available animals should they miss out on adopting Rudolph.
Previously, a dog named Peanut also made a similar miraculous recovery after being injected with a mixture of cocaine and THC drugs as a form of torture.
The dog was found lying unresponsive on the sidewalk and was later taken to Faithful Friends Animal Society where it was given life-saving fluids and treated to recovery.
Please fill in your e-mail so we can share with you our top stories!