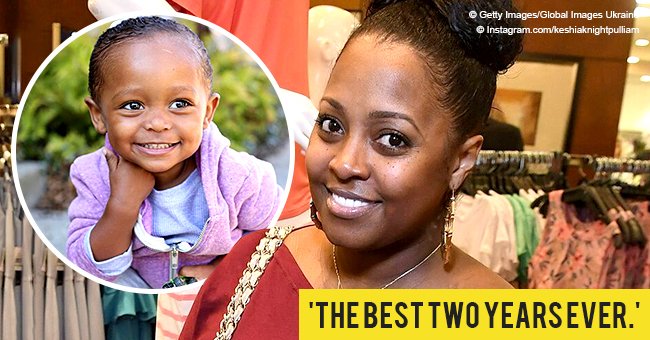 Keshia Knight-Pulliam shares new photo of her little daughter on her 2nd birthday
Keisha Knight Pulliam celebrates "the best two years" with a lovely photo of her daughter on her birthday.
It wasn't too long ago when Keshia Knight-Pulliam revealed her daughter, Ella's face to the world after over a year of keeping her away from the limelight. Now that Ella is 2, the former Cosby Show star shared a cute photo of her to commemorate the "The best TWO years EVER."
Keshia's toddler balances herself on her legs as she squats on the pavement in the photo her mother shared. She has one hand under her chin while she holds a toy in another. She's dressed for the cold outdoor weather wearing a pink hoodie over a white long sleeved shirt and a pair of star-spangled boots over white pants.
Ella's smile reminds us of Rudy Huxtable, the character Keshia famously portrayed in the 80's hit sitcom, 'The Cosby Show." Her eyes are sparkling as she looks away from the camera.
"The best TWO years EVER... Happy Birthday Ella Grace!!" the proud mom wrote before crediting the photo to her brother, Mshon Pulliam.
KESHIA'S HISTORY WITH ELLA'S FATHER
Since her divorce from Ella's father, Ed Hartwell, Keshia fought for their child's custody and won it in April. The court awarded her full custody and entitled her to $3,007 a month in child support from Hartwell who was granted visitation rights.
It was a bitter separation that led to the dissolution of Keshia's marriage to Hartwell. While she was four months pregnant with Ella and barely six months into her marriage, Hartwell filed for divorce claiming the unborn child wasn't his.
It turned out after a paternity test that Ella was indeed his daughter. Keisha also learned it was Hartwell who had cheated on her during their marriage. He was seeing his ex-fiance Tonya Carroll during his short marriage to her. Carroll is now pregnant with his child.
PRECIOUS MOMENTS OF KESHIA AND ELLA
Now that Keisha has Ella mostly to herself, she's been treating her Instagram followers to a glimpse of their precious moments. Their latest photo is a mirror selfie showing off their fashionable outfits.
Last Christmas, Keisha also greeted her fans with a lovely photo of the two of them.
Keisha and Ella can share as many photos of them and we won't mind at all.
Please fill in your e-mail so we can share with you our top stories!