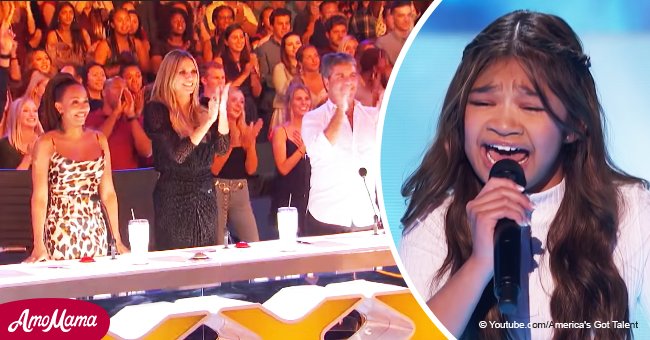 Little girl blows everyone away with her performance, earns first ever double 'Golden Buzzer'
Angelica Hale blessed the world with her excellent rendition of Rachel Platten's anthem, Fight Song, and it was nothing short of amazing.
Her spectacular performance earned her a standing ovation, and the ultimate honor of becoming the first contestant on America's Got Talent to have a double golden buzzer.
All the judges were smitten with her performance and commended her effort. The only judge who did not share the same enthusiasm with the others was Mel B. The former Spice Girl insisted the young lady could have performed a lot better.
Before Hale's show began, she told the judges:
"Tonight, I'm fighting for my place on AGT: The Champions, and I think this song applies to what I'm doing today."
Angelica rose to fame when she finished as the runner up in season 12 of the music show and was labeled the 'Chosen One' by Chris Hardwick, who also treated her to a golden buzzer.
Now, Hale is back with ten other winners and several notable acts in previous seasons; with a performance that wowed the crowd and judges.
Howie Mandel swore that whatever it takes to get her to the finals, he'll do it. It seems like Mendel and Mel B are "never" on the same side when it comes to their preference.
"You showed up, and you ripped the ceiling off the theater. You know what, that was your fight song, and if I can do anything, I'm going to help you win this fight." - Howie
Mandel said right before he put his hands down on his golden buzzer and sent golden glitter's raining down on the young star.
"We're not crying...You're crying"
The starlet was shocked and could not hide it; saying this was the last thing she'd expect. Further, admitting that the song was a strategic move, she wanted to send a message.
"This is my fight song, and I can put up a fight! I was competing against some of the most amazing talents, so I knew I had to step it up. I had to step up my game, so the song I chose had a lot to do with me and my past." - Hale
Hale, a kidney transplant survivor, was only four when she was diagnosed with sepsis. Needing a new kidney, her mother who was a perfect donor, decided to share hers.
The 11-year-old is a visible fighter, and we can't wait to see her blossom through the coming episodes of AGT: The Champions.
Please fill in your e-mail so we can share with you our top stories!