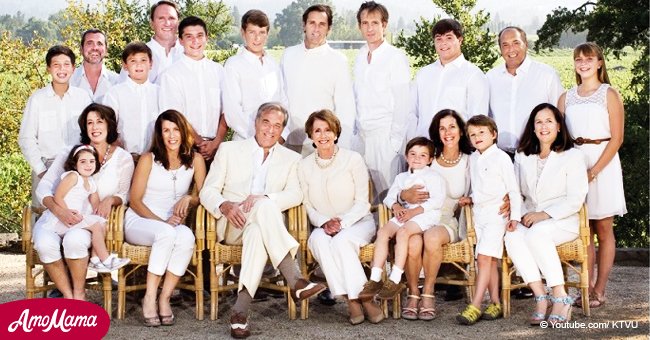 10 key facts about Nancy Pelosi you might have missed
Nancy Pelosi became the new House speaker a few weeks ago re-strengthening her position as one of the most powerful women in the US politics.
The eyes of the world are set on Pelosi after she became the new House speaker and people are expecting her to play a crucial role in setting the Democratic control in the House for the next two years.
Her political journey began a long time ago and she has gathered enough experience along the way to truly command such a powerful position in US politics.
Here are some of the key facts about Pelosi that are rarely talked about:
1. She is the daughter of a legendary Democratic congressman
Pelosi was born as the only daughter, among six children, of the Democratic congressman and Baltimore mayor, Tommy D'Alesandro. Later, one of her brothers would also go on to become the mayor of Baltimore.
2. She was a Democrat from an early childhood
With her father such an influential figure, it is quite obvious why she would be a Democrat early on in her childhood. Once as a young girl, Pelosi was offered a toy elephant by a Republican poll worker, which she gladly refused to take.
3. She is the first female speaker of the House
In 2007, she was elected speaker of the House and created history by being the first female to hold that position.
"It is a moment for which we have waited more than 200 years... But women weren't just waiting; women were working. Never losing faith, we worked to redeem the promise of America, that all men and women are created equal."
Nancy Pelosi, CNN, January 4, 2007
4. She is the first Italian-American to lead a major congressional party
Pelosi's parents were both from Italy but her father was born in the US. The couple met in Rhode Island and later married. They raised their children to be liberal as well as proud of their Italian heritage.
5. She has five children and five grandchildren
Her children are Nancy Corinne, Christine, Jacqueline, Paul, and Alexandra, who were all born within six years of each other. She is also a proud grandmother of five adorable children.
6. She ran for office only at the age of 47
Despite her Democratic inclinations from early childhood, she only ran for office when she was 47 years of age. She waited for the youngest of her five children to become a high school senior before committing to a rigorous political life as a member of the Congress in 1987.
7. She has raised more funds than any other congressional Democrat
Pelosi proved herself to be a powerful political candidate by raising around $100 million in funds since leading the party.
8. She has surprisingly simple hobbies and dietary preference
Pelosi loves Ghirardelli chocolates and her office is stuffed with them. She also prefers chocolate ice cream. One of her favorite leisure activities is to solve the New York Times crossword puzzle.
9. She stood as one of the biggest oppositions of the Iraq War
In 2002, Pelosi stood with 125 other Democrats in the House to vote against allowing then-President George W. Bush to lead the war against Iraq.
10. She attended Washington's Trinity College where she met her future husband
As a devout Catholic, she first attended a Roman Catholic women's college and then Trinity College in Washington, DC. She met her future husband, Paul Pelosi, who was attending Georgetown at the moment.
Please fill in your e-mail so we can share with you our top stories!